"Al Shmami" is Emirati song released on 19 November 2020 in the official channel of the record label - "Mohamed AlShehhi | محمد الشحي". Discover exclusive information about "Al Shmami". Explore Al Shmami lyrics, translations, and song facts. Earnings and Net Worth accumulated by sponsorships and other sources according to information found in the internet. How many times the Emirati song appeared in music charts compiled by Popnable? "Al Shmami " is well-known music video that took placements in popular top charts, such as Top 100 United Arab Emirates Music Chart , Top 40 Emirati Songs Chart, and more.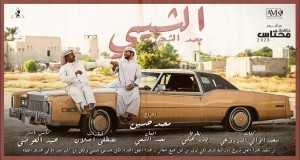 Country

United Arab Emirates
Added
Origin Name
محمد الشحي - الشميمي ( حصريا ) | من ألبوم محتاس 2020 | Mohamed Al Shehhi - Al Shmami
Report
[Not music related] [Add Artist Related] [Report Fake Views] [Remove Linked Artist] [Add Lyrics] [Add Lyrics Translation]
"Al Shmami" Facts
"Al Shmami" has reached 1.5M total views, 12.5K likes, and 748 dislikes on YouTube.

The song has been submitted on 19/11/2020 and spent 22 weeks on the charts.
The original name of the music video "Al Shmami" is "محمد الشحي - الشميمي ( حصريا ) | من ألبوم محتاس 2020 | MOHAMED AL SHEHHI - AL SHMAMI".
"Al Shmami" has been published on Youtube at 19/11/2020 15:03:01
"Al Shmami" Lyrics, Composers, Record Label
اشترك في قناة محمد الشحي الرسمية:

محمد الشحي - الشميمي ( حصريا ) | 2020

غناء: محمد الشحي
بطولة بدر حكمي
‏ @badoor_hakmi

كلمات : سعيد الوالي المزروعي
الحان : محمد الشحي
قيتارات : مصطفى اصلان
مكس ماستر : حميد العوضي

فريق تصوير الكواليس :
احمد عبيد
عبدالرحمن الهاشمي

مدير الانتاج : حسين علي
ادارة انتاج
عبدالله حسن
ربيع سالم
حسن عبيد

Gaffers
علي درجلك
محمد سالم

ميكب ارتست : بسمة مبارك
‏@bassma_makeup_artist

اكسسوارات :
نوادر زمان
‏@Nuadir_zaman

معدات : AFM Films
‏@afmfilms

شكر خاص
-سمو الشيخ راشد بن سعود بن راشد المعلا ولي عهد ام القيوين
- المكتب الاعلامي بالأمانة العامه للمجلس التنفيذي لإمارة ام القيوين
-متحف ام القيوين
-منزل عبدالرحمن الزرعوني التاريخي
-جمعية ام القيوين للتراث والفنون
-الفنان القدير مروان عبدالله صالح
-المخرج علي مصطفى
-ناصر المنصوري ( السياره )

انتاج
@sm7studio
@

تمت العمليات الإنتاجية بواسطة
‏@sm7studio

اخراج
محمد حسين عبدالله
‏@sm7studio

الكلمات:
لاتدق الصدر لو عظمك طري
لا تواعد وانت مو قد الوعد
لاتجيب وتأتي إلنفسك كلام
هذي الدنيا بها جزرن ومد
وانشكيت الحال فضفض للكفو
ذاك لي مايوجد ف قلبه حسد
مايعيش الادمي روحه وحيد
لاكن اختار الشميمي والسند
من زرع زرعه وسط ارض محلت
بالتمني راح عمره ماحصد
والمطر لو هل على مياه البحر
مايغير طعمه المالح ابد
مع مرور الوقت تسقط الاقنعه
هوب كلهم لي عليهم تعتمد

هذي الدنيا علوم ومدرسه
درسها امن الاحد لين الاحد

هذي الدنيا فصول ومدرسه
يارفيق العمر من جدا وجد

______

Official Facebook:
Official Instagram:
Official Twitter : ;
Official Google+:
Official Youtube :
Weekly Chart Achieves (Top 40 Songs)
The highest charting position of the entry is #15 . The song appeared 1 total times in the Top 20 ; The worst ranking place of the video is #198. "Al Shmami" has been charted in 2 trends (countries):
Monthly Chart Achieves (Top 40 Songs)
The best charting position of the entry is #15 . The song appeared 1 total times in the Top 40 ; The worst ranking place of the video is #655. "Al Shmami" has been charted in 2 trends (countries):
Daily Chart Achieves (Top 100 Songs)
The highest ranking position of the entry is #15 . The song appeared 3 total times in the Top 10 ; 1 total times in the Top 20 ; 45 total times in the Top 100 ; The worst charting place of the entry is #100. Find all daily charts - Top 100 United Arab Emirates