Fi Dubai

by Ahlam

"Fi Dubai" is Emirati song released on 11 October 2021 in the official channel of the record label - "Ahlam | أحلام". Discover exclusive information about "Fi Dubai". Explore Fi Dubai lyrics, translations, and song facts. Earnings and Net Worth accumulated by sponsorships and other sources according to information found in the internet. How many times the Emirati song appeared in music charts compiled by Popnable? "Fi Dubai " is well-known music video that took placements in popular top charts, such as Top 100 United Arab Emirates Music Chart , Top 40 Emirati Songs Chart, and more.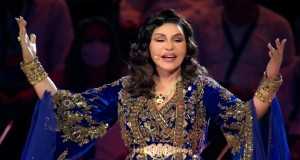 Country

United Arab Emirates
Added
Origin Name
أحلام - في دبي (دبي اكسبو 2020) | Ahlam - Fi Dubai (Dubai-Expo 2020)
Report
[Not music related] [Add Artist Related] [Report Fake Views] [Remove Linked Artist] [Add Lyrics] [Add Lyrics Translation]
"Fi Dubai" Facts
"Fi Dubai" has reached 444.7K total views, 1.6K likes, and 262 dislikes on YouTube.

The song has been submitted on 11/10/2021 and spent 2 weeks on the charts.
The original name of the music video "Fi Dubai" is "أحلام - في دبي (دبي اكسبو 2020) | AHLAM - FI DUBAI (DUBAI-EXPO 2020)".
"Fi Dubai" has been published on Youtube at 11/10/2021 02:09:30
"Fi Dubai" Lyrics, Composers, Record Label
للاستماع علي جميع المنصات |
اشترك في قناة أحلام الرسمية


أحلام - في دبي (دبي اكسبو 2020)
Ahlam - Fi Dubai (Dubai-Expo 2020)

Lyrics Arabic : Abdulrahman Alothman
English Lyrics :
French Lyrics :

Music : Abdulrahman Alothman


Recorded with the kiev philharmonic orchestra Ukrain
Sound engineer : Maxim
Orchestra's manager : Jean Balchion

Woodwind Instruments
English / French
Bruges - Belgium

Special Thanks to Edouard Meunier At Michel Fadel Studio Lebanon

Arranged by Michel Fadel

Eqaa'a : Ahmed Al Anwah

Mixed By Jassim Mohd
Jassim Mohd Studio - Bahrain

Mastering - Metropolis Studios
London - UK
Master By MaZ

Special Thanks to
Team worked for the song
and Special thanks
Dr Jihan Maarouf
;Amin Akef
;Mohamed Esmat

Artist Voice at :
Alwatan Studio / Studio A
Dubai - UAE

Artist Management :
Maha elhage
Naif Alyousef


كلمات الأغنية

في دبي

في دبي اهلاً و سهلاً
من هُنا المستقبل افضل
يد بـ يد
نبدأ طريقاً
نحو عالم جداً اجمل

في دبي

كورال ::
في دبي اهلاً و سهلاً
من هُنا المستقبل افضل
يد بـ يد
نبدأ طريقاً
نحو عالم جداً اجمل

حـــول افكارك
لواقع
عــــبِّر اكثر عن
خيالك
الـحياه تحتاج
لفكره
تـرجمتها..
من خلالك

انجز وحقق
طموحك
اصنع التاريخ
بيدك
خل احلامك
حقيقه
الأمل دايم
يفيدك


You're the life
That keeps hearts beating
Much you give
Strong to the core
We the blessed
We stand united
Rise as one
As one we flow
Fi Dubai

choir ::

You're the life
That keeps hearts beating
Much you give
Strong to the core
We the blessed
We stand united
Rise as one
As one we flow
Fi Dubai

حـــول افكارك
لواقع
عــــبِّر اكثر عن
خيالك
الـحياه تحتاج
لفكره
تـرجمتها..
من خلالك


انجز وحقق
طموحك
اصنع التاريخ
بيدك
خل احلامك
حقيقه
الأمل دايم
يفيدك


choir

Bienvenue chez nous à Dubai
L'avenir d'ici est meilleur
Notre chemin commence ici
Vers un nouveau monde idéal
À Dubai…


Bienvenue chez nous à Dubai
L'avenir d'ici est meilleur
Notre chemin commence ici
Vers un nouveau monde idéal
À Dubai…


حـــول افكارك
لواقع
عــــبِّر اكثر عن
خيالك
الـحياه تحتاج
لفكره
تـرجمتها..
من خلالك


انجز وحقق
طموحك
اصنع التاريخ
بيدك
خل احلامك
حقيقه
الأمل دايم
يفيدك



#أحلام
#في_دبي
#اكسبو_2020


_____________
Official Website:
Follow onTwitter :
Follow onInstagram:
Follow on Facebook:
Follow on pinterest :
Follow on Google+ :
Official Youtube: .
Official Snapchat:
Weekly Chart Achieves (Top 40 Songs)
The highest charting position of the entry is #22 . The song appeared 1 total times in the Top 40 ; The worst ranking place of the video is #322. "Fi Dubai" has been charted in 2 trends (countries):
Daily Chart Achieves (Top 100 Songs)
The highest ranking position of the entry is #22 . The song appeared 1 total times in the Top 10 ; 2 total times in the Top 20 ; 2 total times in the Top 100 ; The worst charting place of the entry is #94. Find all daily charts - Top 100 United Arab Emirates