New Rules

by Dua Lipa

"New Rules" is British song released on 08 July 2017 in the official channel of the record label - "Dua Lipa". Discover exclusive information about "New Rules". Explore New Rules lyrics, translations, and song facts. Earnings and Net Worth accumulated by sponsorships and other sources according to information found in the internet. How many times the British song appeared in music charts compiled by Popnable? "New Rules " is well-known music video that took placements in popular top charts, such as Top 100 UK Music Chart , Top 40 British Songs Chart, and more.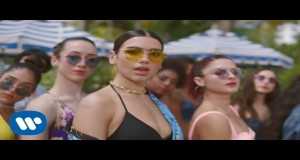 Country

UK
Added
Report
[Not music related] [Add Artist Related] [Report Fake Views] [Remove Linked Artist] [Add Lyrics] [Add Lyrics Translation]
"New Rules" Facts
"New Rules" has reached 2.6B total views, 15.1M likes, and 656.5K dislikes on YouTube.

The song has been submitted on 08/07/2017 and spent 228 weeks on the charts.
The original name of the music video "New Rules" is "DUA LIPA - NEW RULES".
"New Rules" has been published on Youtube at 07/07/2017 12:00:05
"New Rules" Lyrics, Composers, Record Label
The Complete Edition is here!!

Follow me online:





Lyrics:
One, one, one, one,

Talkin' in my sleep at night, makin' myself crazy
(Out of my mind, out of my mind)
Wrote it down and read it out, hopin' it would save me
(Too many times, too many times)

My love, he makes me feel like nobody else, nobody else
But my love, he doesn't love me, so I tell myself, I tell myself

One: Don't pick up the phone
You know he's only callin' 'cause he's drunk and alone
Two: Don't let him in
You'll have to kick him out again
Three: Don't be his friend
You know you're gonna wake up in his bed in the morning
And if you're under him, you ain't gettin' over him

I got new rules, I count 'em
I got new rules, I count 'em
I gotta tell them to myself
I got new rules, I count 'em
I gotta tell them to myself

I keep pushin' forwards, but he keeps pullin' me backwards
(Nowhere to turn, no way)
(Nowhere to turn, no)
Now I'm standin' back from it, I finally see the pattern
(I never learn, I never learn)

But my love, he doesn't love me, so I tell myself, I tell myself
I do, I do, I do

One: Don't pick up the phone
You know he's only callin' 'cause he's drunk and alone
Two: Don't let him in
You'll have to kick him out again
Three: Don't be his friend
You know you're gonna wake up in his bed in the morning
And if you're under him, you ain't gettin' over him

I got new rules, I count 'em
I got new rules, I count 'em
I gotta tell them to myself
I got new rules, I count 'em
I gotta tell them to myself

Practice makes perfect
I'm still tryna learn it by heart (I got new rules, I count 'em)
Eat, sleep, and breathe it
Rehearse and repeat it, 'cause ;(I got )

One: Don't pick up the phone (yeah)
You know he's only callin' 'cause he's drunk and alone (alone)
Two: Don't let him in (uh-ooh)
You'll have to kick him out again (again)
Three: Don't be his friend
You know you're gonna wake up in his bed in the morning
And if you're under him, you ain't gettin' over him

I got new rules, I count 'em
I got new rules, I count 'em
(Whoa-ooh, whoa-ooh, whoa)
I gotta tell them to myself
I got new rules, I count 'em
(Baby, you know I count 'em)
I gotta tell them to myself

Don't let him in, don't let him in
Don't, don't, don't, don'
Don't be his friend, don't be his friend
Don't, don't, don't, don'
Don't let him in, don't let him in
Don't, don't, don't, don'
Don't be his friend, don't be his friend
Don't, don't, don't, don'
You're gettin' over him
Weekly Chart Achieves (Top 40 Songs)
The highest charting position of the entry is #1 . "New Rules" atop the Top 40 Songs Chart for 7 total weeks. The song appeared 233 total times in the Top 10 ; 41 total times in the Top 20 ; 102 total times in the Top 40 ; The worst ranking place of the video is #460. "New Rules" has been charted in 3 trends (countries):
Monthly Chart Achieves (Top 40 Songs)
The best charting position of the entry is #1 . "New Rules" atop the Top 40 Songs Chart for 1 total months. The song appeared 51 total times in the Top 10 ; 10 total times in the Top 20 ; 21 total times in the Top 40 ; The worst ranking place of the video is #386. "New Rules" has been charted in 3 trends (countries):
Daily Chart Achieves (Top 100 Songs)
The highest ranking position of the entry is #1 . "New Rules" atop the Top 100 Songs Chart for 2 total days. The song appeared 992 total times in the Top 10 ; 265 total times in the Top 20 ; 1284 total times in the Top 100 ; The worst charting place of the entry is #100. Find all daily charts - Top 100 UK