"Hair" is British song released on 20 April 2016 in the official channel of the record label - "littlemixVEVO". Discover exclusive information about "Hair". Explore Hair lyrics, translations, and song facts. Earnings and Net Worth accumulated by sponsorships and other sources according to information found in the internet. How many times the British song appeared in music charts compiled by Popnable? "Hair " is well-known music video that took placements in popular top charts, such as Top 100 UK Music Chart , Top 40 British Songs Chart, and more.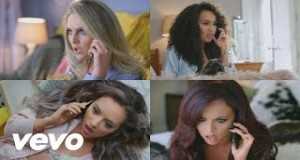 Country

UK
Added
Report
[Not music related] [Add Artist Related] [Report Fake Views] [Remove Linked Artist] [Add Lyrics] [Add Lyrics Translation]
"Hair" Facts
"Hair" has reached 432.4M total views, 3.2M likes, and 113.1K dislikes on YouTube.

The song has been submitted on 20/04/2016 and spent 273 weeks on the charts.
The original name of the music video "Hair" is "".
"Hair" has been published on Youtube at 20/04/2016 10:00:00
"Hair" Lyrics, Composers, Record Label
Little Mix – Hair (Official Video) ;Sean Paul
Follow On Spotify -
Listen On Apple Music -
Listen On Amazon Music -
Listen On YouTube Music -

WATCH WOMAN LIKE ME MUSIC VIDEO ►
WATCH SHOUT OUT TO MY EX MUSIC VIDEO ►
WATCH TOUCH MUSIC VIDEO ►
WATCH BLACK MAGIC MUSIC VIDEO ►
WATCH POWER MUSIC VIDEO ►

Follow Little Mix:
YouTube -
Instagram -
Facebook -
Twitter -

#LittleMix #Hair #SeanPaul #LittleMixOfficial #LittleMixHair #LittleMixTopTracks #LittleMixOfficialVideo #LittleMixEssentials #LittleMixLive #LittleMixftSeanPaul #BlackMagic #WomanLikeMe #ShoutOutToMyEx #Touch #LittleMixLyrics

Lyrics

Switch it up
Switch it up
Oh, whoa
Yeah-eh, yeah
Let's go

I call my girl
(hey!)
'Cause I got a problem
(what?)
Only a curl
(mmmh)
Is gonna solve it

Then I don't really care
Just get him out of my hair, yeah

Let's switch it up
Get it off my shoulder
I've had enough
Can't take it no longer

I'm over him, I swear
I'm like, "Yeah!"

Gotta get him out my hair
Gotta get him out my hair
Gotta get him out my hair
Gotta get him out my hair

'Cause he was just a dick, and I knew it
Got me going mad sitting in this chair
Like I don't care
Gotta get him out my hair

I tried everything, but it's useless
He pushed me so ;Now I'm on the edge
Make him disappear
Go get him out my hair

OK
Gotta bleach him out, peroxide on him
Hair on the floor like my memory of him
Now I feel brand new
That's right
This chick is over you

We're going out
Ain't got no worries
Drama now
Now it just seems so funny

Put my hands up in the air
I'm like, "Yeah!"

Gotta get him out my hair
Gotta get him out my hair
Gotta get him out my hair
Gotta get him out my hair
My hair

'Cause he was just a dick, and I knew it
Got me going mad sitting in this chair
Like I don't care
Gotta get him out my hair

I tried everything, but it's useless
He pushed me so ;Now I'm on the edge
Make him disappear
Go get him out my hair

Da-da-da-da-da, da-da-da-da-da-da
Switch it up, switch it up
Da-da-da-da-da, da-da-da-da-da-da, oh

Da-da-da-da-da, da-da-da-da-da-da
Switch it up, switch it up
Da-da-da-da-da, da-da-da-da-da-da, oh

Girlfriend you need to get your phone
Erase that number
Don't call him back
'Cause he don't deserve that

And when you see him in the club
Just flip your hair
Don't show him any love
'Cause you've had enough

'Cause he was just a dick, and I knew it
Got me going mad sitting in this chair
Like I don't care
Gotta get him out my hair

I tried everything, but it's useless
He pushed me so ;Now I'm on the edge
Make him disappear
Go get him out my hair

Go get him out my hair
He's in my hair
Gonna get him out
Gonna get him out
Got to get him out my hair
Weekly Chart Achieves (Top 40 Songs)
The highest charting position of the entry is #1 . "Hair" atop the Top 40 Songs Chart for 5 total weeks. The song appeared 40 total times in the Top 10 ; 8 total times in the Top 20 ; 46 total times in the Top 40 ; The worst ranking place of the video is #498. "Hair" has been charted in 3 trends (countries):
Monthly Chart Achieves (Top 40 Songs)
The best charting position of the entry is #1 . "Hair" atop the Top 40 Songs Chart for 1 total months. The song appeared 11 total times in the Top 10 ; 1 total times in the Top 20 ; 11 total times in the Top 40 ; The worst ranking place of the video is #999. "Hair" has been charted in 3 trends (countries):
Daily Chart Achieves (Top 100 Songs)
The highest ranking position of the entry is #1 . The song appeared 584 total times in the Top 100 ; The worst charting place of the entry is #100. Find all daily charts - Top 100 UK