Stefania

by Kalush

"Stefania" is Ukrainian song released on 15 May 2022 in the official channel of the record label - "Kalush Orchestra". Discover exclusive information about "Stefania". Explore Stefania lyrics, translations, and song facts. Earnings and Net Worth accumulated by sponsorships and other sources according to information found in the internet. How many times the Ukrainian song appeared in music charts compiled by Popnable? "Stefania " is well-known music video that took placements in popular top charts, such as Top 100 Ukraine Music Chart , Top 40 Ukrainian Songs Chart, and more.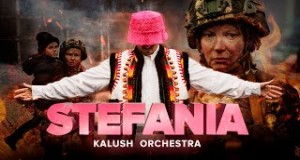 Country

Ukraine
Added
Origin Name
Kalush Orchestra - Stefania (Official Video Eurovision 2022)
Report
[Not music related] [Add Artist Related] [Report Fake Views] [Remove Linked Artist] [Add Lyrics] [Add Lyrics Translation]
"Stefania" Facts
"Stefania" has reached 40.1M total views, 1.1M likes, and 0 dislikes on YouTube.

The song has been submitted on 15/05/2022 and spent 21 weeks on the charts.
The original name of the music video "Stefania" is "KALUSH ORCHESTRA - STEFANIA (OFFICIAL VIDEO EUROVISION 2022)".
"Stefania" has been published on Youtube at 15/05/2022 11:00:11
"Stefania" Lyrics, Composers, Record Label
I once dedicated this song to my mother, and when the war broke out, the song took on a lot of new meanings.

Although there is not a word about the war in the song, many people began to associate the song with mother ;Moreover, society began to call it the anthem of our war!

But if Stefania is now the anthem of our war, I would like it to become the anthem of our victory.

Stream here:

Follow Kalush:
Instagram:
TikTok:
Patreon:

You can buy the branded pink panama "KALUSH" here:

This film is based on true events during the military aggression in Ukraine in 2022.

Do not repeat/copy/imitate what you see in the video, do not put your life and health in danger.

Credits:
Director - Max Ksjonda
DOP - Volodymyr Shkliarevskyi
Producer - Stanislav Smyrnov

Arranger - Anton Chilibi
Mixing and mastering - Anton Chilibi
1stAD / Casting director - Evjena Shtuchka
Line producer/location manager (Lviv) - Oxana Schobak
Location manager/PA (Kyiv) - Anton Kosenko
Production Manager - Oleg Filchakov
Producer assistant - Alexandra Orlova
Steadicam operator (Kyiv) - Ruslan Bogdan
Steadicam operator (Lviv) - Maksym Salo
Drone - Kyiv Aеrials
Aerial DP - Pavlenko Mykyta
Pilot - Priymenko Mykyta
Stylist - Dmytriy Dihtyar
Make up - Shevchuk Viktoriia, Luhova Anastasiia
Storyboard - Anton Petrusevich
Focuspuller / 1AC - Sardudinov Sergii
2 AC Kyiv - Ruslan Vitkovskiy
2 AC Lviv - Dmytro Myslinchuk
Gafer - Leonid Sydorenko
SFX - "TORNADOSFX : Vadym Lysak, Ruban Maxim, Liashenko Ruslan"
Edit - Dmitry Arkhipovich
Color - Marina Tkachenko
BTS - Roman Ketkov, Mitya Borodin, Ivan kashyn
Production team - But Oleksandr, Hutenko Yaroslav, Albina Shapoval, Arthur Podzolkin, Dima Altunin
Rental - Partiot rental, Starwagen
Special Thanks - Markushyn Oleksandr, Nehresha Dmytro, Igor Pavluk, Stanislav Knyazev, Mykola Kucheryaviy
Casting:
Bogutska Oksana
Shymalo Tamara
Bespalenko Vasyl
Sheremeta Olga
Plakhtij Darija
Karpenko Solomija
Syrvatka Orest
Safronova Olga
Mudruk Anna
Latanishin Anna
Ignat Kristina
Nizina Kira
Skrjabina-Smirnova Natalija
Vazhova Arina
Gelevera Inna
Sidorenko Anastasia
Petrash Anna
Novikova Yeseniа
Kostenko Viktorija
Olshana Veronika

Production company - ENKO x SIDE production
Weekly Chart Achieves (Top 40 Songs)
The highest charting position of the entry is #1 . "Stefania" atop the Top 40 Songs Chart for 5 total weeks. The song appeared 21 total times in the Top 10 ; 2 total times in the Top 40 ; The worst ranking place of the video is #470. "Stefania" has been charted in 2 trends (countries):
Monthly Chart Achieves (Top 40 Songs)
The best charting position of the entry is #1 . "Stefania" atop the Top 40 Songs Chart for 2 total months. The song appeared 5 total times in the Top 10 ; The worst ranking place of the video is #152. "Stefania" has been charted in 2 trends (countries):
Daily Chart Achieves (Top 100 Songs)
The highest ranking position of the entry is #1 . "Stefania" atop the Top 100 Songs Chart for 33 total days. The song appeared 141 total times in the Top 10 ; 8 total times in the Top 20 ; 5 total times in the Top 100 ; The worst charting place of the entry is #65. Find all daily charts - Top 100 Ukraine