Ne-Yo Bio and Facts
Ne-Yo is a well-known American artist/band. Find biography and interesting facts of Ne-Yo's career and personal life. Discover detailed information about Ne-Yo's height, real name, wife, girlfriend & kids. Ne-Yo Wiki, Facebook, Instagram, and socials. Ne-Yo Height, Age, Bio, and Real Name.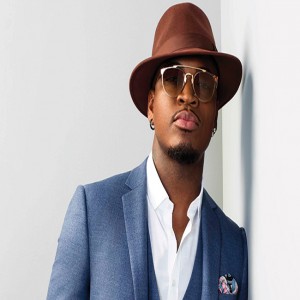 [Edit Photo]
Country

USA
Added
Social
[Instagram Add]
[Facebook Add]
[Twitter Add]
[Wiki Add]
Ne-Yo Biography Facts
Ne-Yo has been appeared in channels as follow: Ultra Music, Trap City, PitbullVEVO, David Guetta, NeYoVEVO, Armin van Buuren, Jordan Dzib, DatPiff, TooShortVEVO, Pitbull, Ne-Yo.
Born 18 October, 1979 (43 years old).
What is the zodiac sign of Ne-Yo ?
According to the birthday of Ne-Yo the astrological sign is Libra .
Career of the Ne-Yo started in 2018 .
Ne-Yo Wiki
Ne-Yo
Ne-Yo in January 2013
Born
Shaffer Chimere Smith
October 18, 1979
Camden, Arkansas, U.S.
Other names
Gogo
Education
Las Vegas Academy
Occupation
Singer songwriter record producer actor dancer television judge
Years active
1998–present
Spouse
Crystal Renay Williams ​ ​​
Partner
Monyetta Shaw
Children
4
Awards
Full list
Musical career
Origin
Las Vegas, Nevada, U.S.
Genres
R&B pop hip hop soul
Instruments
Vocals
Labels
Compound Motown Def Jam
Associated acts
Chuck Harmony Fabolous Harmony Samuels Jennifer Hudson Pitbull Rihanna Shea Taylor Stargate Celine Dion
Website
neyothegentleman.com
Shaffer Chimere Smith , better known by his stage name Ne-Yo, is an American singer-songwriter, record producer, actor, dancer and television judge. He gained fame for his songwriting abilities when he penned his 2004 hit "Let Me Love You" for singer Mario. The single's successful release in the United States prompted an informal meeting between Ne-Yo and Def Jam's label head and the signing of a recording contract.
Ne-Yo's debut solo single, "Stay", was released in 2005 to moderate success. His debut studio album, In My Own Words , was critically and commercially successful, reaching number one on the Billboard 200 chart in the United States. It is certified platinum in the United States, United Kingdom, Japan and Australia and saw the success of the single "So Sick", which topped the Billboard Hot 100 chart in the United States.
Because of You , Ne-Yo's second studio album, was the second number one platinum-selling album debuted on the Billboard 200 and Top R&B/Hip-Hop Albums charts, and received the Grammy Award for Best Contemporary R&B Album at the 50th Grammy Awards. His third studio album, Year of the Gentleman , saw continued success and further Grammy Award nominations for Best Contemporary R&B Album as well as Album of the Year. Its singles "Closer" and "Miss Independent" were also nominated for the Grammy Award for Best Male Pop Vocal Performance, Best Male R&B Vocal Performance, and Best R&B Song. Year of the Gentleman has been certified platinum twice in the US, selling two million copies, also platinum three times in the UK and once in Japan.
Libra Scale , Ne-Yo's fourth studio album, reached number one in the UK R&B Singles and Albums Charts and number nine on the US Billboard 200, seeing a decline in overall sales. His fifth studio album, R.E.D. , saw the international success of its lead single "Let Me Love You ", which certified platinum in the United States, became Ne-Yo's fifth chart-topping song in the United Kingdom, and sold over two million copies. Ne-Yo's sixth studio album, Non-Fiction, followed in 2015. His seventh studio album, Good Man, was released on June 8, 2018. In addition to music, Ne-Yo currently serves as judge for the reality competition series World of Dance alongside Jennifer Lopez and Derek Hough. In 2021, Ne-Yo competed as Badger on the second season of The Masked Singer UK, and finished in second place.
Early life
Shaffer Chimere Smith was born in Camden, Arkansas. His parents were musicians. As a young child, he was raised by his mother after she separated from his father. In hopes of better opportunity, his mother relocated the family to Las Vegas, Nevada.
While in the Las Vegas Academy, Smith adopted the stage name GoGo and joined an R&B group called Envy, who appeared during amateur night on Showtime at the Apollo and on the short lived MTV series The Cut . The group disbanded in 2000, and Smith continued to write songs for other artists before starting his solo career. The stage name Ne-Yo was coined by Big D Evans, a producer with whom Ne-Yo once worked, because Evans claimed that Ne-Yo sees music like the character Neo sees the Matrix.
Personal life
Family
In 2005, Jesseca White, Ne-Yo's girlfriend at the time, gave birth to a boy, naming him Chimere after Ne-Yo's middle name. Though Ne-Yo believed he was the father, he later discovered the child was not his.
In June 2010, Ne-Yo told Ebony that he and his then-girlfriend, Monyetta Shaw, were expecting their first child together – a girl due early in 2011. Shaw gave birth early to daughter Madilyn Grace Smith on November 12, 2010, in Atlanta, Georgia. Announcing the birth, Ne-Yo said of his first child, "I've been in love before but this feels like nothing I've ever felt... like I'm in love for the first time."
In September 2011, Ne-Yo revealed that he was expecting his second child with Monyetta Shaw. Shaw gave birth to a boy, Mason Evan Smith, on October 9, 2011.
In September 2015, the singer announced that he and Crystal Renay Williams were engaged and expecting a child. They were married on February 20, 2016. Their son, Shaffer Chimere Smith, Jr., was born on March 15, 2016. Their second son, Roman Alexander-Raj Smith was born on June 14, 2018. In February 2020, Ne-Yo announced that he and Crystal Smith would end their marriage, and he withdrew his divorce case afterwards. The pair reconciled during the 2020 coronavirus pandemic, with Ne-Yo telling CBS chat show The Talk: "Before the quarantine happened, we were definitely talking divorce, and the quarantine forced us to sit still, block out the noise from the world - you know the world can get very, very loud, and we tend to let the world's opinion mean more in certain situations than it should."
In 2019, in wake of the television documentary, Surviving R. Kelly, Ne-Yo confirmed his support for the Mute R. Kelly campaign, for the protection of his own daughter.
In February 2021, Ne-Yo announced via Instagram that he and Williams were expecting a third child together.
Legal issues
On February 19, 2008, Ne-Yo was arrested for reckless driving and driving without a valid license after driving through Cobb County, Georgia in his 2006 Range Rover. It was reported that he was doing about 150 mph, 100 mph over the speed limit. On June 2, 2008, Ne-Yo pleaded guilty to the driving without a valid license charge and no contest to the reckless driving charge. He was sentenced to 24 hours of community service. On August 22, 2011, Ne-Yo was sued along with rapper Pitbull and DJ Afrojack by actress Lindsay Lohan, claiming that their song "Give Me Everything" referenced her by name in the lyrics. A judge ruled that Pitbull's use of her name was protected by the First Amendment and that Lohan was barely mentioned in the song. Pitbull then won the lawsuit.
Health
In August 2017, Ne-Yo announced he had adopted a vegan diet after viewing the documentary What the Health. In February 2019 he said in an interview that he had lost "like 30 pounds" and had also reversed his tendinitis since he became vegan, calling it "one of the best things he's ever done". His representative confirmed in March 2020 that he was no longer a vegan.
Ne-Yo Personal Life
Real Name/Birth Name
Ne-Yo
Birthday
18 October, 1979
Nationality
American
Age
(43 years old)
Zodiac sign
Libra
Born Country / Born in
USA
Famous as
Musician/Singer
Ethnicity
American
Citizenship
American
Height
- cm / - inches tall
Marital Status
Single/Married
Ne-Yo Career
Total Music Videos
54
Music Labels
Ultra Music, Trap City, PitbullVEVO, David Guetta, NeYoVEVO, Armin van Buuren, Jordan Dzib, DatPiff, TooShortVEVO, Pitbull, Ne-Yo
Popular Songs