Halsey Bio and Facts
Halsey is a well-known American artist/band. Find biography and interesting facts of Halsey's career and personal life. Discover detailed information about Halsey's height, real name, wife, girlfriend & kids. Halsey Wiki, Facebook, Instagram, and socials. Halsey Height, Age, Bio, and Real Name.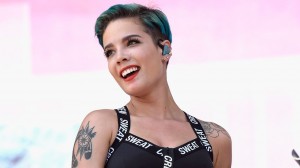 [Edit Photo]
Country

USA
Added
Social
[Instagram Add]
[Facebook Add]
[Twitter Add]
[Wiki Add]
Halsey Biography Facts
Halsey has been appeared in channels as follow: CalvinHarrisVEVO, KelseaBalleriniVEVO, MGKVEVO, Trap City, Atlantic Records, HaileeSteinfeldVEVO, ChainsmokersVEVO, HalseyVEVO, Vivid Music, MrSuicideSheep, Marshmello, Selected., Chill Nation, Machine Gun Kelly, Proximity, WaveMusic, GEazyMusicVEVO, Cimorelli, TrapMusicHDTV, Trap Nation, ibighit, Royal Music, YUNGBLUDVEVO, Aminium Music, Juice WRLD, benny blanco, SyrebralVibes, 7clouds, NewMelody, Jaeguchi, Halsey.
Born 29 September, 1994 (28 years old).
What is the zodiac sign of Halsey ?
According to the birthday of Halsey the astrological sign is Libra .
Career of the Halsey started in 2012 .
Halsey Wiki
American singer-songwriter and activist
Halsey
Halsey at the iHeartRadio Music Awards in 2019
Background information
Birth name
Ashley Nicolette Frangipane
Born
September 29, 1994
Edison, New Jersey, U.S.
Genres
Pop electropop synth-pop R&B
Occupation
Singer songwriter activist
Instruments
Vocals
Years active
2012–present
Labels
Capitol Virgin EMI Astralwerks
Associated acts
Juice Wrld Lido
Website
iamhalsey.com
Ashley Nicolette Frangipane born September 29, 1994), known professionally as Halsey , is an American singer, songwriter, and activist. Gaining attention from self-released music on social media platforms, she was signed by Astralwerks in 2014 and released her debut EP, Room 93, later that year.
Halsey has since earned a #1 album on the Billboard 200 with Hopeless Fountain Kingdom , as well as two #2 albums with Badlands and Manic , the latter of which became the highest-selling debut and the most streamed album by a female artist in 2020. She has earned two #1 singles on the Billboard Hot 100 chart in the United States, including "Closer", a collaboration with The Chainsmokers, and "Without Me"; she has also attained a top-five single with "Bad at Love". In total, Halsey has sold over one million albums and has been streamed over six billion times in the United States. All three of her studio albums have been supported by a headlining tour.
Halsey is noted for her distinctive singing voice. Her awards and nominations include four Billboard Music Awards, one American Music Award, one GLAAD Media Award, three Guinness World Records, an MTV Video Music Award, and two Grammy Award nominations. She was included on Time's annual list of the 100 most influential people in the world in 2020. Outside of her career, she has been involved in suicide prevention awareness, sexual assault victim advocacy, and racial justice protests.
Early life
Ashley Nicolette Frangipane was born on September 29, 1994, in Edison, New Jersey. Her parents dropped out of college after her mother discovered that she was pregnant with her. Her mother, Nicole, works as an emergency medical technician, and her father, Chris, manages a car dealership. Nicole is of Italian and Hungarian descent, while Chris is African-American with some Irish ancestry. Frangipane has two younger brothers, Sevian and Dante. She played the violin, viola, and cello until moving on to the acoustic guitar when she was 14 years old. She grew up listening to Alanis Morissette, Justin Bieber, and Brand New.
Throughout her childhood, Frangipane's family moved frequently, as her parents worked many jobs. By the time she reached her teen years, she had enrolled in six schools. In high school, she endured bullying by other students, and at 17 she attempted suicide, which led to a 17-day hospitalization. Following this, she was diagnosed with bipolar disorder; her mother also struggles with the affliction. Frangipane began using recreational drugs soon after, claiming her bipolar disorder caused her to become an "unconventional child". Also, when she was 17, she became romantically involved with a man who was 24 and lived on the Halsey Street in Brooklyn. She has said, "That's where I first start writing music and where I started to feel like I was a part of something bigger than my town in middle of nowhere New Jersey. Halsey is kind of like a manifestation of all the exaggerated parts of me, so it's like an alter ego." In 2012, Frangipane graduated from Warren Hills Regional High School in Washington, New Jersey.
After graduating, she enrolled in the Rhode Island School of Design; however, she withdrew due to financial hardship and attended community college instead. She eventually dropped out of community college and was ejected from her home, saying, "They just didn't agree with a lot of things about me". Soon after, she lived in a basement in lower Manhattan with a group of "degenerate stoners", whom she knew through her then-boyfriend. When she was not living there, she occasionally lived in one of New York's many homeless shelters, and she considered prostitution as a way to make money. When describing this period of her life, Frangipane has said, "I remember one time I had $9 in my bank account, and bought a four-pack of Red Bull and used it to stay up overnight over the course of two or three days, because it was less dangerous to not sleep than it was to sleep somewhere random and maybe get raped or kidnapped." She would occasionally stay with her maternal grandmother.
Public image
Halsey at the 2018 MTV Movie & TV Awards
In her early career, Halsey drew criticism for pre-fame tweets that were posted from 2009 to 2012, and also gained controversy for allegedly calling herself "tri-bi" in an interview, due to her being biracial, bipolar, and bisexual; however, she stated the label is a trivializing way to describe her and condemned the label as a misquote. She became most known for her signature dyed blue hair in her early career. She drew controversy in 2016 after several fan interactions, some involving Halsey kissing underage fans.
In June 2017, Halsey received backlash for collaborating with Quavo, an artist who has made homophobic remarks. She stated that she has never spoken to Quavo, and continued to say that she would not put "a lot of people" in her songs. She criticized Iggy Azalea for her "complete disregard for black culture". She also criticized Demi Lovato for, in Halsey's view, treating bisexuality as taboo in the song "Cool for the Summer".
Halsey has described herself as an "in-between role model" and an "inconvenient woman", due to her music and style. She stated in 2017 that although she passes as white, she is a black woman and proud of her heritage. She was included on Forbes's 30 Under 30 list, and appeared on the cover of magazines such as Billboard, Paper, and Playboy. She has appeared in advertisements for Jeep, Beats Electronics, and ModCloth. At other times, she has been described as a feminist icon. She has also been called the "voice of her generation". Her relationship with G-Eazy gathered significant media attention due to rumors of drug use, arrest, cheating, and G-Eazy's feuds with other artists.
Halsey has long identified as an alternative artist, stating that she can do pop collaborations without being considered a pop artist, similar to Kendrick Lamar. She states that she is only classified as pop because she is a woman. Some of her music is still labeled pop, while some is considered alternative. In 2019, she called herself "the anti-popstar" and stated she doesn't care how people identify her music, as long as it connects with them.
Activism
During the 2016 United States presidential election, Halsey was an avid supporter of Bernie Sanders and urged her fans to vote for him. In July 2016, she and 26 other artists were featured on the charity single "Hands", which was a tribute to the victims of the Pulse nightclub shooting. During the 2020 Democratic presidential primaries, Halsey further endorsed Sanders on March 11, 2020, encouraging her fans to vote for him via social media and a promotional video collaborating with the Sanders campaign.
As a result of her own attempted suicide at age 17, Halsey participated in the mental health and suicide prevention awareness campaign called "I'm Listening", which was hosted by radio network Entercom and broadcast live on September 10, 2017.
Halsey is a feminist. After the 2017 Women's March, she sent out a tweet that promised to donate one dollar to Planned Parenthood for every retweet it received. She ended up donating $100,000 to the organization. Halsey delivered a speech to more than 200,000 protesters at the 2018 Women's March. Instead of a traditional speech, she performed a five-minute poem titled "A Story Like Mine", in which she told personal stories of sexual assault and violence throughout her life. Her personal narrative included accompanying her best friend to Planned Parenthood after she had been raped, her personal account of sexual assault by neighbors and boyfriends, and women sexually assaulted by Olympic doctor Larry Nassar. She completed her speech by requesting all—"Black, Asian, poor, wealthy, trans, cis, Muslim, Christian"—sexual assault victims to listen and support each other. A. J. Willingham of CNN opined in a headline that "Halsey's Women's March speech moved people around the world." In March 2018, Halsey protested alongside numerous other celebrities at March for Our Lives in Washington, D.C. In May 2018, she attacked Ivanka Trump over Twitter, complaining that she was too relaxed while her father, president Donald Trump, hurt immigrant children.
In November 2018, Halsey performed at the Victoria's Secret Fashion Show alongside numerous other artists, but in December she called out the company for its lack of inclusion of transgender models in its various shows, stating, "as a member of the LGBT+ community, I have no tolerance for a lack of inclusivity. Especially not motivated by stereotype." Later that month, she performed her hit song "Without Me" on The Voice and received backlash for "sensually" dancing with backup dancer Jade Chynoweth. Many called the backlash homophobic and Halsey defended her performance. In a January 2019 interview with Glamour, she advocated for a stronger presence of women in music. In April 2019, she and 29 other musical acts were featured on the charity single "Earth", which raises climate change awareness. In May 2020, Halsey, alongside Yungblud, joined protests in Los Angeles for racial justice after the killing of George Floyd.
In June 2020, she launched The Black Creators Fund, which will provide financial support, resources, and a platform to black creators.
Personal life
Relationships
Halsey is openly bisexual. From 2015 to 2016, she dated Norwegian producer Lido, who helped produce Badlands and inspired Hopeless Fountain Kingdom.
In 2017, she began dating American rapper G-Eazy. They met at a party in 2017 and although they pursued different music, they found common ground for their collaboration "Him & I", which discussed their love and lifestyle. The couple broke up in July 2018; their relationship was off and on again until September of that year, when it officially ended. Halsey confirmed in a 2019 interview with Glamour that her October 2018 single "Without Me" is partially about this relationship.
She began dating English alternative rock musician Yungblud in November 2018. They met at a bar in Los Angeles and ended up collaborating on the song "11 Minutes", which led to rumors of a possible romantic relationship. Halsey first confirmed that they were seeing each other in an interview with Capital FM in March and celebrated Yungblud's birthday in August. In September of that year, they broke up.
Halsey began dating actor Evan Peters in September 2019. In 2020, she liked a tweet confirming that they had split.
Personal health
Since the beginning of her career, Halsey has been open about her personal health; in 2015, speaking of her career, she stated "I'm just this fucked-up stoner kid who made it".
Halsey has bipolar disorder. She was diagnosed with the mental disorder at the age of 17, and said that her mother also has it. At that age, Halsey attempted suicide, which is what led to her diagnosis and a 17-day admission to a psychiatric hospital. Not long after her suicide attempt, she began having success in the music industry. She said that singing and performing helped her manage the symptoms she experiences. Despite the struggles she has faced as a result of this mood disorder, the artist has said that she embraces being bipolar because it makes her "really empathetic".
Halsey was diagnosed with endometriosis in 2016 and went public with it on Twitter. She credits a miscarriage she experienced in 2015 to her endometriosis, originally stating in 2016 that it was due to her hectic touring schedule. Only hours after she realized she was having a miscarriage, she went on stage to perform during a tour because she did not want to hurt her career by missing a performance. Halsey chronicled her struggles with endometriosis on the talk show The Doctors in April 2018, where she revealed she was going to freeze her eggs.
Also in 2018, Halsey spoke out about her endometriosis and the pain it causes at the Blossom Ball, which is run by the Endometriosis Foundation of America. At the Blossom Ball, she said, "Sometimes I'm bloated, I'm on an IV, I'm sick, I'm on medicine, and I'm backstage, terrified that I'm going to bleed through my clothes in the middle of my show." She told people who attended this event that she wanted to speak out because the media often portrays her as having perfect physical health despite her health struggles. In January 2017, she underwent surgery in an attempt to lessen the pain caused by the disorder. She has not disclosed what type of surgery she underwent.
On July 29, 2019, Halsey tweeted, "the best gift I ever got in life was Cheerios being gluten free", which prompted a fan to ask her if she was gluten free; she responded, saying that she was gluten intolerant and within less than two minutes of consuming food containing gluten, her stomach swells up to the point of looking six months pregnant.
On August 14, 2019, Halsey revealed on Twitter that she quit smoking cigarettes, after 10 years.
Tattoos
Halsey has 29 confirmed tattoos, with her most prominent being an upside-down horseshoe on her right shoulder. She had a tattoo of lyrics from the song "Him & I" done for G-Eazy that has since been covered. She has one tattoo on her face. She also has a tattoo of Marilyn Manson's face on the side of her torso and one of lyrics from Beck's song "Loser" on her neck.
Halsey Personal Life
Real Name/Birth Name
Halsey
Birthday
29 September, 1994
Nationality
American
Age
(28 years old)
Zodiac sign
Libra
Born Country / Born in
USA
Famous as
Musician/Singer
Ethnicity
American
Citizenship
American
Height
- cm / - inches tall
Marital Status
Single/Married
Halsey Career
Total Music Videos
171
Music Labels
CalvinHarrisVEVO, KelseaBalleriniVEVO, MGKVEVO, Trap City, Atlantic Records, HaileeSteinfeldVEVO, ChainsmokersVEVO, HalseyVEVO, Vivid Music, MrSuicideSheep, Marshmello, Selected., Chill Nation, Machine Gun Kelly, Proximity, WaveMusic, GEazyMusicVEVO, Cimorelli, TrapMusicHDTV, Trap Nation, ibighit, Royal Music, YUNGBLUDVEVO, Aminium Music, Juice WRLD, benny blanco, SyrebralVibes, 7clouds, NewMelody, Jaeguchi, Halsey
Popular Songs