Drip Too Hard

by Lil Baby , Gunna

"Drip Too Hard" is American song released on 06 October 2018 in the official channel of the record label - "Lil Baby Official 4PF". Discover exclusive information about "Drip Too Hard". Explore Drip Too Hard lyrics, translations, and song facts. Earnings and Net Worth accumulated by sponsorships and other sources according to information found in the internet. How many times the American song appeared in music charts compiled by Popnable? "Drip Too Hard " is well-known music video that took placements in popular top charts, such as Top 100 USA Music Chart , Top 40 American Songs Chart, and more.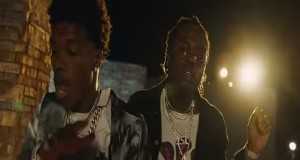 Lil Baby, Gunna "Drip Too Hard"

on Apple Music Unlimited

Listen 100M songs — new subscribers only

Try it FREE
Country

USA
Added
Origin Name
Lil Baby X Gunna - "drip Too Hard" (Official Music Video)
Report
[Not music related] [Add Artist Related] [Report Fake Views] [Remove Linked Artist] [Add Lyrics] [Add Lyrics Translation]
"Drip Too Hard" Facts
"Drip Too Hard" has reached 90.9M total views, 1.3M likes, and 0 dislikes on YouTube.

The song has been submitted on 06/10/2018 and spent 28 weeks on the charts.
The original name of the music video "Drip Too Hard" is "LIL BABY X GUNNA - "DRIP TOO HARD" (OFFICIAL MUSIC VIDEO)".
"Drip Too Hard" has been published on Youtube at 05/10/2018 17:00:17
"Drip Too Hard" Lyrics, Composers, Record Label
Watch the music video by Lil Baby & Gunna for "Drip Too Hard"

Directed by Spike Jordan
Producer Sara Lacombe
Co Producer Vanda Lee & Jonathan Nellis

Follow Lil Baby Everywhere:




Follow Gunna Everywhere:




Lyrics:
[Intro]
Run that back, Turbo

[Verse 1: Lil Baby]
You can get the biggest Chanel bag in the store if you want it
Man, I gave 'em the drip, they sucked it up, I got 'em on it
I bought a new Patek, I had the watch, so I two-toned 'em
Takin' these drugs, I'm gon' be up until the mornin'
That ain't your car, you just a leaser, you don't own it
If I'm in the club, I got that fire when I'm performin'
The backend just came in, in all hundreds
Vibes galore, cute shit, they all on us
I'm from Atlanta where young niggas run shit
I know they hatin' on me, but I don't read comments
Whenever I tell her to come, she comin'
Whenever it's smoke, we ain't runnin'

[Chorus: Lil Baby]
Drip too hard, don't stand too close
You gon' fuck around and drown off this wave
Doin' all these shows, I've been on the road
I don't care where I go, long as I get paid
Bad lil' vibe, she been on my mind
Soon as I get back, she gettin' slayed
Do this all the time, this ain't no surprise
Every other night, another movie gettin' made
Drip too hard, don't stand too close
You gon' fuck around and drown off this wave
Doin' all these shows, I've been on the road
I don't care where I go, long as I get paid
Bad lil' vibe, she been on my mind
Soon as I get back, she gettin' slayed
Do this all the time, this ain't no surprise
Every other night, another movie gettin' made

[Verse 2: Gunna]
Yeah, every other night, another dollar gettin' made
Every other night started with a good day
I feel like a child, I got boogers in the face
Diamonds dancin' in the dial like this shit is a parade
I don't want your chain, Young Gunna not a slave
I had to draw the line, too many bitches gettin' saved
TSA harass me, so I took a private plane
These pussy niggas lackin', why I'm workin' on my aim
Drip too hard (Too hard), charge it to the card (To the card)
Designer to the ground, I can barely spell the names
Drip too hard, caution on the floor
You gon' fuck around and drown tryna ride a nigga wave

[Chorus: Lil Baby]
Drip too hard, don't stand too close
You gon' fuck around and drown off this wave
Doin' all these shows, I've been on the road
I don't care where I go, long as I get paid
Bad lil' vibe, she been on my mind
Soon as I get back, she gettin' slayed
Do this all the time, this ain't no surprise
Every other night, another movie gettin' made
Drip too hard, don't stand too close
You gon' fuck around and drown off this wave
Doin' all these shows, I've been on the road
I don't care where I go, long as I get paid
Bad lil' vibe, she been on my mind
Soon as I get back, she gettin' slayed
Do this all the time, this ain't no surprise
Every other night, another movie gettin' made
Weekly Chart Achieves (Top 40 Songs)
The highest charting position of the entry is #61 . The worst ranking place of the video is #493. "Drip Too Hard" has been charted in 3 trends (countries):
Monthly Chart Achieves (Top 40 Songs)
The best charting position of the entry is #61 . The worst ranking place of the video is #997. "Drip Too Hard" has been charted in 3 trends (countries):
Daily Chart Achieves (Top 100 Songs)
The highest ranking position of the entry is #61 . The song appeared 14 total times in the Top 100 ; The worst charting place of the entry is #99. Find all daily charts - Top 100 USA