Thanos

by Lil Nas X

"Thanos" is American song released on 10 May 2019 in the official channel of the record label - "Wicked Sounds". Discover exclusive information about "Thanos". Explore Thanos lyrics, translations, and song facts. Earnings and Net Worth accumulated by sponsorships and other sources according to information found in the internet. How many times the American song appeared in music charts compiled by Popnable? "Thanos " is well-known music video that took placements in popular top charts, such as Top 100 USA Music Chart , Top 40 American Songs Chart, and more.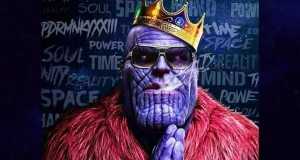 Country

USA
Added
Origin Name
Lil Nas X - Thanos (Lyric Video)
Report
[Not music related] [Add Artist Related] [Report Fake Views] [Remove Linked Artist] [Add Lyrics] [Add Lyrics Translation]
"Thanos" Facts
"Thanos" has reached 4.6M total views, 55.2K likes, and 0 dislikes on YouTube.

The song has been submitted on 10/05/2019 and spent 1 weeks on the charts.
The original name of the music video "Thanos" is "LIL NAS X - THANOS (LYRIC VIDEO)".
"Thanos" has been published on Youtube at 09/05/2019 07:28:04
"Thanos" Lyrics, Composers, Record Label
Lil Nas X - Thanos (Blow It) music video visualizer with lyrics.

???? Best of Lil Nas X playlist:

Lyrics:
[intro]
yeah what, yeah, what, yeah, what, what
yeah, huh, yeah, yeah, yeah, yeah, yeah

[chorus]
i'm killin' these n*ggas, they calling me c*cky
n*ggas is mad and nobody can stop me
i'm in my bag and there's no need to brag
and you n*ggas get smacked, i'm your dad and your papi
i'm finna bl*w, i already know it
i spit hits, i'm a f*ckin' poet
you n*ggas sh*t, you need to f*ckin' quit
you take potential hits and then you f*ckin' bl*w it

[verse 1]
i hop on this beat i'm finessing
look at these blessings
all of my exes from texas
you n*ggas is guessing that i will start stressing
fall back to depression just cause yo' rejection
i kill beats, these instrumentals
n*ggas talking bout "he got potential"
n*ggas joining groups tryna' be avengers
scared to stand alone, scared to disa**emble
i'm droppin sh*t way before december
be afraid hope you do remember
in the escalade, drinking ace of spades
doing escapades, yeah, i do adventures
droppin' sh*t, you know that i'm poppin' sh*t
i switched up my swag and they copied it
got in my bag and i pulled off the tag
and i don't mean to brag on my mothaf*ckin' c*cky sh*t
n*ggas is, n*ggas is wack
smokin' on crack, i am on fire like jack
i do the same thing as thugger
when cops come and pull up
yeah, i put that brack in my brack
n*ggas corny, n*ggas whistle bl*w
n*ggas kiss a**, n*gga mistletoe
you gotta thick a**? you should let me know!
i make big cash, giuseppe' toe

[chorus]
i'm killin' these n*ggas, they calling me c*cky
n*ggas is mad and nobody can stop me
i'm in my bag and there's no need to brag
and you n*ggas get smacked, i'm your dad and your papi
i'm finna bl*w, i already know it
i spit hits, i'm a f*ckin' poet
you n*ggas sh*t, you need to f*ckin' quit
you take potential hits and then you f*ckin' bl*w it

[verse 2]
you blew it!
yeah, n*gga you blew it!
had the mothaf*ckin' ball and you threw it
you had the s***w and you didn't even s***w it
yes, i am lil nas and i'm bouta get to it
i sh*t on you n*ggas, right now i'm just farting
enter the game, all you n*ggas departing
you won't be bragging about yo' ferrari
i'm killin' you n*ggas and, no, i'm not sorry!

[chorus]
i'm killin' these n*ggas, they calling me c*cky
n*ggas is mad and nobody can stop me
i'm in my bag and there's no need to brag
and you n*ggas get smacked, i'm your dad and your papi
i'm finna bl*w, i already know it
i spit hits, i'm a f*ckin' poet
you n*ggas sh*t, you need to f*ckin' quit
you take potential hits and then you f*ckin' bl*w it
i'm killin' these n*ggas, they calling me c*cky
n*ggas is mad and nobody can stop me
i'm in my bag and there's no need to brag
and you n*ggas get smacked, i'm your dad and your papi
i'm finna bl*w, i already know it
i spit hits, i'm a f*ckin' poet
you n*ggas sh*t, you need to f*ckin' quit
you take potential hits and then you f*ckin' bl*w it
—

We hope you enjoyed this Lil Nas X "Thanos" (Blow It) lyric video!

More by Lil Nas X:
Panini:
Rodeo ;Cardi B:
Old Town Road ( ;Billy Ray Cyrus):

Follow Lil Nas X




#LilNasX #Thanos #AvengersEndgame #Avengers #OldTownRoad
Weekly Chart Achieves (Top 40 Songs)
The highest charting position of the entry is #356 . The worst ranking place of the video is #454. "Thanos" has been charted in 2 trends (countries):
Monthly Chart Achieves (Top 40 Songs)
The best charting position of the entry is #356 . The worst ranking place of the video is #983. "Thanos" has been charted in 2 trends (countries):