Dance Monkey

by Tones And I

"Dance Monkey" is American song released on 04 July 2020 in the official channel of the record label - "Cloudx Music". Discover exclusive information about "Dance Monkey". Explore Dance Monkey lyrics, translations, and song facts. Earnings and Net Worth accumulated by sponsorships and other sources according to information found in the internet. How many times the American song appeared in music charts compiled by Popnable? "Dance Monkey " is well-known music video that took placements in popular top charts, such as Top 100 USA Music Chart , Top 40 American Songs Chart, and more.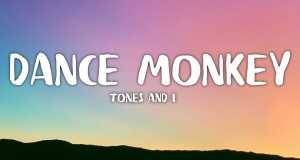 Country

USA
Added
Origin Name
Tones And I - Dance Monkey (Lyrics)
Report
[Not music related] [Add Artist Related] [Report Fake Views] [Remove Linked Artist] [Add Lyrics] [Add Lyrics Translation]
"Dance Monkey" Facts
"Dance Monkey" has reached 174.1M total views, 1.4M likes, and 0 dislikes on YouTube.

The song has been submitted on 04/07/2020 and spent 68 weeks on the charts.
The original name of the music video "Dance Monkey" is "TONES AND I - DANCE MONKEY (LYRICS)".
"Dance Monkey" has been published on Youtube at 02/07/2020 16:19:06
"Dance Monkey" Lyrics, Composers, Record Label
Tones and I - Dance Monkey (Lyrics)
⏬ Stream Dance Monkey here:

Tones and I




???? Cloudx Music




???? Wallpaper:

❗️ Usage Policy:
???? Please get in touch with the label for usage of this track in your Youtube videos.


???? Lyrics: Tones and I - Dance Monkey

[Verse 1]
They say, "Oh my god, I see the way you shine
Take your hand, my dear, and place them both in mine"
You know you stopped me dead while I was passing by
And now I beg to see you dance just one more time

[Pre-Chorus]
Ooh, I see you, see you, see you every time
And oh my, I, I like your style
You, you make me, make me, make me wanna cry
And now I beg to see you dance just one more time

[Chorus]
So they say
Dance for me, dance for me, dance for me, oh-oh-oh
I've never seen anybody do the things you do before
They say
Move for me, move for me, move for me, ayy-ayy-ayy
And when you're done I'll make you do it all again

[Verse 2]
I said, "Oh my god, I see you walking by
Take my hands, my dear, and look me in my eyes"
Just like a monkey, I've been dancin' my whole life
But you just beg to see me dance just one more time

[Pre-Chorus]
Ooh, I see you, see you, see you every time
And oh my, I, I like your style
You, you make me, make me, make me wanna cry
And now I beg to see you dance just one more time

[Chorus]
So they say
Dance for me, dance for me, dance for me, oh-oh-oh
I've never seen anybody do the things you do before
They say
Move for me, move for me, move for me, ayy-ayy-ayy
And when you're done I'll make you do it all again
They say
Dance for me, dance for me, dance for me, oh-oh-oh, oh-oh, oh-oh
I've never seen anybody do the things you do before
They say
Move for me, move for me, move for me, ayy-ayy-ayy
And when you're done I'll make you do it all again

[Bridge]
Ooh, ooh, ooh, ooh, ooh
(Do it all again, do it all again, do it all again)
Oh-oh, oh-oh, oh
Ooh, ooh, ooh, ooh, ooh-ooh
(Do it all again, do it all again, do it all again)
Ooh, ah-ah, ah-ah

They say
Dance for me, dance for me, dance for me, oh-oh-oh
I've never seen anybody do the things you do before
They say
Move for me, move for me, move for me, ayy-ayy-ayy
And when you're done I'll make you do it all again
They say
Dance for me, dance for me, dance for me, oh-oh-oh, oh-oh, oh-oh
I've never seen anybody do the things you do before
They say
Move for me, move for me, move for me, ayy-ayy-ayy
And when you're done I'll make you do it all again
All again

Thanks for listen Tones and I - Dance Monkey Lyrics

#DanceMonkey #TonesAndI #DanceMonkeylyrics

For business inquiries and other issues please contact: @
Weekly Chart Achieves (Top 40 Songs)
The highest charting position of the entry is #38 . The song appeared 1 total times in the Top 40 ; The worst ranking place of the video is #499. "Dance Monkey" has been charted in 3 trends (countries):
Monthly Chart Achieves (Top 40 Songs)
The best charting position of the entry is #38 . The worst ranking place of the video is #935. "Dance Monkey" has been charted in 3 trends (countries):
Daily Chart Achieves (Top 100 Songs)
The highest ranking position of the entry is #38 . The song appeared 18 total times in the Top 100 ; The worst charting place of the entry is #98. Find all daily charts - Top 100 USA