"Vice City" is American song released on 31 October 2020 in the official channel of the record label - "DatPiff". Discover exclusive information about "Vice City". Explore Vice City lyrics, translations, and song facts. Earnings and Net Worth accumulated by sponsorships and other sources according to information found in the internet. How many times the American song appeared in music charts compiled by Popnable? "Vice City " is well-known music video that took placements in popular top charts, such as Top 100 USA Music Chart , Top 40 American Songs Chart, and more.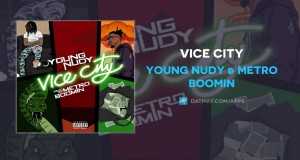 Country

USA
Added
Origin Name
Young Nudy & Metro Boomin - Vice City (Audio)
Report
[Not music related] [Add Artist Related] [Report Fake Views] [Remove Linked Artist] [Add Lyrics] [Add Lyrics Translation]
"Vice City" Facts
"Vice City" has reached 8.6K total views, 278 likes, and 0 dislikes on YouTube.

The song has been submitted on 31/10/2020 and spent weeks on the charts.
The original name of the music video "Vice City" is "YOUNG NUDY & METRO BOOMIN - VICE CITY (AUDIO)".
"Vice City" has been published on Youtube at 30/10/2020 23:28:04
"Vice City" Lyrics, Composers, Record Label
New music from Young Nudy & Metro Boomin - Vice City available now on DatPiff YouTube!

Young Nudy & Metro Boomin - Vice City (AUDIO) Lyrics:

[Intro]
(Metro) I'm from a motherfuckin' city
Where niggas die every day
Niggas get robbed every day
You either built for it or you ain't, nigga
If you ain't (Yeah, yeah)
Stay in the house

[Chorus]
F and N (Whack), fuck a nigga (Fuck 'em)
Hell no, don't trust a nigga (Never)
You is not my brother, no trust in you (No trust)
Only thing that I trust, put these slugs in you (Put these slugs in you)
And I've seen the worsest of the worst turn snitch (Worst turn snitch)
And I've seen the realest of the realest turn bitch (Realest turn bitch)
Couple niggas got locked up, I know them niggas gon' snitch (What?)
I am thе truth and I ain't gotta lie 'bout this (I don't)

[Verse 1]
I'm a rich nigga (Rich nigga)
God made me likе this and you a bitch nigga (Blessed)
When you got some money, you was a lick, nigga (You's a bitch)
When I got that money, they wasn't gon' shit, nigga (What?)
Shoot first, you know I don't play that shit, nigga (They know that)
I was just down bad, my dick was in the dirt, nigga (Well, damn)
Tried to hit me, they hit me where it hurt, nigga (They did)
All these lawyer fees, man they do the worst, nigga (That's my lawyer)
Don't you know I gotta pay 'cause I'm the worst nigga (I'm the worst)
And I pay my shooters, just gon' do the worse, nigga (They gon' hurt him)
And you know that .38, it always work, nigga (Ooh yeah)
357, we gon' baptize, you ain't in church, nigga (Nah, nah)
You know banana clip, ooh, that shit go worse, nigga (Uh-huh)
You know I got the Uzi hangin' out the vert', nigga (Uh-huh)
And if you scared, then you need to go to church, nigga (Uh-huh)
You know I seen some niggas in the street get merked, nigga (They murk nigga)

[Chorus]
F and N (Whack), fuck a nigga (Fuck 'em)
Hell no, don't trust a nigga (Never)
You is not my brother, no trust in you (No trust)
Only thing that I trust, put these slugs in you (Put these slugs in you)
And I've seen the worsest of the worst turn snitch (Worst turn snitch)
And I've seen the realest of the realest turn bitch (Realest turn bitch)
Couple niggas got locked up, I know them niggas gon' snitch (What?)
I am the truth and I ain't gotta lie 'bout this (I don't)

[Verse 2]
Bitch, yeah, Griselda Blanco (EA)
And I got them bricks, pulled up in a Bronco (Slime)
And I got the sticks just to protect the hunchos (Draco)
And I gotta be good anywhere that I go (You know it)
Two hunnid cash and I know they don't like this shit (Cash, cash)
Twelve like, "Where the fuck did that nigga get this shit? (Damn)
Step on the stage, you know I get paid for this shit (Get paid)
Thought I was gon' be locked in, a hundo that they bet (A hundo)
I'm up now, don't give a fuck now (Racks)
Say you want some smoke, you nigga better get rid up now (Torch)
You ain't got no money, you funny, you junkies (Broke-ass)
I'm havin' all this money, you makin' me vomit (Vomit)
Don't make my stomach hurt with that broke shit (Damn)
I'll have a toast when I kill you, you know this (Hey, pour me up)
And then I'll sit back and think about it, well done (Well done)
Then I just roll up more grams, yeah (More gas)

[Chorus]
F and N (Whack), fuck a nigga (Fuck 'em)
Hell no, don't trust a nigga (Never)
You is not my brother, no trust in you (No trust)
Only thing that I trust, put these slugs in you (Put these slugs in you)
And I've seen the worsest of the worst turn snitch (Worst turn snitch)
And I've seen the realest of the realest turn bitch (Realest turn bitch)
Couple niggas got locked up, I know them niggas gon' snitch (What?)
I am the truth and I ain't gotta lie 'bout this (I don't)

[Outro]
I don't, hahaha, you had me fucked up, nigga
I don't give a fuck, fuck you, fuck you
I'd hate me too if was you, so, shit
Fuck you, hahaha
I don't give a fuck
EA's finest, bitch
You know where you know fuckin', where you motherfuckin' find me, man, what the fuck
Fuck, man, fuck, hahaha

#YoungNudy #MetroBoomin #ViceCity

Powered by @DatPiff
iOS:
Android:

Contact: youtube@