"Inferno" is American song released on 11 August 2021 in the official channel of the record label - "Bella Poarch". Discover exclusive information about "Inferno". Explore Inferno lyrics, translations, and song facts. Earnings and Net Worth accumulated by sponsorships and other sources according to information found in the internet. How many times the American song appeared in music charts compiled by Popnable? "Inferno " is well-known music video that took placements in popular top charts, such as Top 100 USA Music Chart , Top 40 American Songs Chart, and more.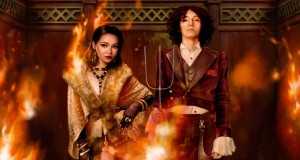 Country

USA
Added
Origin Name
Sub Urban & Bella Poarch - Inferno (Official Music Video)
Report
[Not music related] [Add Artist Related] [Report Fake Views] [Remove Linked Artist] [Add Lyrics] [Add Lyrics Translation]
"Inferno" Facts
"Inferno" has reached 70.3M total views, 3.1M likes, and 70.2K dislikes on YouTube.

The song has been submitted on 11/08/2021 and spent 9 weeks on the charts.
The original name of the music video "Inferno" is "SUB URBAN & BELLA POARCH - INFERNO (OFFICIAL MUSIC VIDEO)".
"Inferno" has been published on Youtube at 10/08/2021 07:17:21
"Inferno" Lyrics, Composers, Record Label
;OUT NOW????

Follow Sub Urban:





Follow Bella Poarch:





Director: Andrew Donoho
Creative Direction: Sub Urban

STARRING:
TommyInnit
Ludwig
Disguised Toast
Adin Ross
Fuslie
QuarterJade
Ivana Alawi
Staryuuki
Courage
Pokimane
Valkyrae
StarSmitten
LilyPichu
Yvonnie
TinaKitten
Bretman Rock

CREDITS:
Producer - Stephan Bielecki
Executive Producer - Ryan Huffman
Production Company - Huffman Creative
Supervising Producer - Katie Sarrels
Production Manager - Trevor Albair
Executive Assistant - Niko Vernic
Label - Warner Records
SVP of A&R - Stefan Max
VP of Creative Services - Devin Sarno
Director Rep - Doug Klinger @ Reprobates
Director of Photography - Htat Htut
2nd Unit DP - Pascal Combes-Knoke
Steadicam Op - Chris Loh SOC
1st AD - Lauren Bates
Gaffer - Mohamed Alaali
Key Grip - Matt Planer
Sound Mixer - Jon Lastra
Production Designer - Morgan Gillio
Art Director - Remington Brimmer
Set Dresser - Jevon Dismuke
Fashion Stylist and Costume Designer - AQUILES
Hair (Bella) - Donovan Domingo-Pa
Makeup (Bella)- Faith Swain-Nachor
HMU (Sub Urban) - Alysha Marcantonio
SFX Makeup - Malina Stearns
Elevator Victim/Stuntman - Chad Parker
Elevator Victim/Stuntman - Thomas Vu
Stunt Coordinator - Webster Whinery
Choreographer - Monika Felice Smith
Assistant Choreographer - Jen Apter
Stunt Rigging Coordinator - Craig Jenson
Key SFX - Tom Ceglia
Post Producer - Katie Sarrels
Post Coordinator - Jhovani Estrada
Editor - Andre "Dre" Jones @ Sunset Edit
VFX Supervisor - Andrew Donoho
VFX & Animation - Denhov Visuals
VFX & Animation - Vitaly Verlov
VFX & Animation - Caleb Natale
VFX & Animation - Derek King
Sound Design - Grant Meurs
Colorist - Kris Smale

Lyrics:
No halo
Baby I'm the reason why hell's so hot
Inferno
Baby I'm the reason why bad's so fun
Hell's so hot
Oh so

Terribly terrible
She's the villain
One as sweet as caramel
She's my saint
Think I'm getting butterflies
But it's really
Something telling me to run away

No halo
Baby I'm the reason why hell's so hot
Inferno
Baby I'm the reason why bad's so fun
Hell's so hot
Oh so

Nah nah nah
Nah nah nah
Yeah yeah yeah
Nah nah nah
Nah nah nah
Bad's so fun
Hell's so hot
Oh so

Manic like a chandelier
Crack the ceiling
Marie-Antionette oh she's
Lost her head
Falling for exteriors
As appealing
As they might be
I know I'm afraid

No halo
Baby I'm the reason why hell's so hot
Inferno
Baby I'm the reason why bad's so fun
Hell's so hot
Oh so

Ah ah ah ah
Ah ah ah ah, ah ah
Ah ah ah ah
Bad's so fun
Hell's so hot
Oh so

Nah nah nah
Nah nah nah
Yeah yeah yeah
Nah nah nah
Nah nah nah
Bad's so fun
Hell's so hot
Oh so hot

#SubUrban #BellaPoarch #INFERNO
Weekly Chart Achieves (Top 40 Songs)
The highest charting position of the entry is #2 . The song appeared 7 total times in the Top 10 ; 5 total times in the Top 20 ; 4 total times in the Top 40 ; The worst ranking place of the video is #317. "Inferno" has been charted in 3 trends (countries):
Monthly Chart Achieves (Top 40 Songs)
The best charting position of the entry is #2 . The song appeared 2 total times in the Top 10 ; 2 total times in the Top 20 ; The worst ranking place of the video is #80. "Inferno" has been charted in 3 trends (countries):
Daily Chart Achieves (Top 100 Songs)
The highest ranking position of the entry is #2 . "Inferno" atop the Top 100 Songs Chart for 9 total days. The song appeared 45 total times in the Top 10 ; 26 total times in the Top 20 ; 81 total times in the Top 100 ; The worst charting place of the entry is #100. Find all daily charts - Top 100 USA