"Musalem" is Yemeni song released on 12 September 2022 in the official channel of the record label - "Fouad Abdulwahed | فؤاد عبدالواحد". Discover exclusive information about "Musalem". Explore Musalem lyrics, translations, and song facts. Earnings and Net Worth accumulated by sponsorships and other sources according to information found in the internet. How many times the Yemeni song appeared in music charts compiled by Popnable? "Musalem " is well-known music video that took placements in popular top charts, such as Top 100 Yemen Music Chart , Top 40 Yemeni Songs Chart, and more.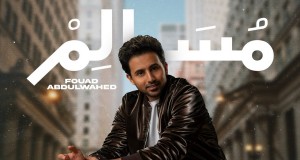 Country

Yemen
Added
Origin Name
فؤاد عبدالواحد - مُسـالم (حصرياً) | 2022 | Fouad Abdulwahed - Musalem
Report
[Not music related] [Add Artist Related] [Report Fake Views] [Remove Linked Artist] [Add Lyrics] [Add Lyrics Translation]
"Musalem" Facts
"Musalem" has reached 3.6M total views, 41.3K likes, and dislikes on YouTube.

The song has been submitted on 12/09/2022 and spent 11 weeks on the charts.
The original name of the music video "Musalem" is "فؤاد عبدالواحد - مُسـالم (حصرياً) | 2022 | FOUAD ABDULWAHED - MUSALEM".
"Musalem" has been published on Youtube at 11/09/2022 18:00:12
"Musalem" Lyrics, Composers, Record Label
اشترك في قناة فؤاد عبدالواحد الرسمية:


فؤاد عبدالواحد - مسالم (النسخة الأصلية)
Fouad Abdulwahed - Musalem (Official Audio)

من أشعار: يــم
ألحان: راكان
توزيع: هشام السكران
مكس و ماسترينغ: جاسم محمد
تصوير: هند الرئيسي
تصميم الفيديو: زاكي


كلمات الأغنية
مسالم
عايش الدنيا ،،
لا مظلوم لا ظالم
لا ناقد ولا منقود
لا حاسد ولا محسود
بعيد ومالي بالعالم

هناك بعيد خلوني
وحيد و هايم بكوني
ولا لي باي احد خص

ابي محدٍ يقاسمني
همومي فرحتي وحزني
ولا يربطني اي شخص


مسالم
عايش الدنيا
لا محروم لا حارم
لا شاره ولا مشروه
لا فارض ولا مفروض
معاها نفسي متفاهم


كذا صدقني حيل اريح
تعبت اداوي من يجرح
وش اللي حادني بس

سوايا لا ما تترقع
جروح و فالصدر توجع
ولا من يوحي و يحس


#فؤاد_عبدالواحد
#مسالم
توزيع ديجيتال: شركة قنوات ميوزك

Official Social Media Accounts
• Instagram :
• Facebook :
• Twitter :
• SnapChat :

Official Music Platforms :
• Youtube channel :
• ITunes :
• Anghami :
• Spotify :
• Deezer :
• Sound cloud :
Weekly Chart Achieves (Top 40 Songs)
The highest charting position of the entry is #2 . The song appeared 4 total times in the Top 10 ; 7 total times in the Top 20 ; The worst ranking place of the video is #19. "Musalem" has been charted in 1 trends (countries):
Monthly Chart Achieves (Top 40 Songs)
The best charting position of the entry is #2 . The song appeared 2 total times in the Top 10 ; The worst ranking place of the video is #4. "Musalem" has been charted in 1 trends (countries):
Daily Chart Achieves (Top 100 Songs)
The highest ranking position of the entry is #2 . "Musalem" atop the Top 100 Songs Chart for 1 total days. The song appeared 32 total times in the Top 10 ; 43 total times in the Top 20 ; 2 total times in the Top 100 ; The worst charting place of the entry is #70. Find all daily charts - Top 100 Yemen