Be With Me

by Ronghao Li

"Be With Me" is Chinese song released on 22 June 2020 in the official channel of the record label - "Ronghao Li's Official Channel李榮浩官方專屬頻道". Discover exclusive information about "Be With Me". Explore Be With Me lyrics, translations, and song facts. Earnings and Net Worth accumulated by sponsorships and other sources according to information found in the internet. How many times the Chinese song appeared in music charts compiled by Popnable? "Be With Me " is well-known music video that took placements in popular top charts, such as Top 100 China Music Chart , Top 40 Chinese Songs Chart, and more.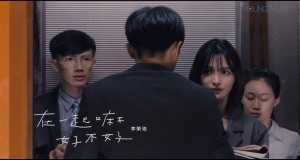 Country

China
Added
Origin Name
李榮浩 Ronghao Li《在一起嘛好不好 Be With Me》Official Music Video
Report
[Not music related] [Add Artist Related] [Report Fake Views] [Remove Linked Artist] [Add Lyrics] [Add Lyrics Translation]
"Be With Me" Facts
"Be With Me" has reached 3.9M total views, 27.2K likes, and 636 dislikes on YouTube.

The song has been submitted on 22/06/2020 and spent 69 weeks on the charts.
The original name of the music video "Be With Me" is "李榮浩 RONGHAO LI《在一起嘛好不好 BE WITH ME》OFFICIAL MUSIC VIDEO".
"Be With Me" has been published on Youtube at 21/06/2020 07:00:01
"Be With Me" Lyrics, Composers, Record Label
數位收聽 ???? ;

晚上一直不睡
對方回復之後 反復修改文字 
按下發送鍵之後
翻著聊天記錄 等著下一條回復


愛情之所以深刻 並非只是大情大愛




並排坐在餐廳吃飯 而不再是面對面坐著
看電影的時候



或許不久遠 
但卻好難忘

#李榮浩
#在一起嘛好不好
_

◼︎ 在一起嘛好不好
詞曲:李榮浩

困也不睡
還嘟著嘴
該死的世界 是不是瞭解

我牽你手就走 你生氣卻沒有 松開手

我們在一起嘛好不好
我們在一起嘛好不好

是你的

我們在一起嘛好不好
我們在一起嘛好不好

在一起嘛好不好

只坐你身邊
你拿著方便
不懂怎麼哄你 是因為我可以

絕不會讓你 受半點的委屈 我可以

我們在一起嘛好不好
我們在一起嘛好不好

是你的

我們在一起嘛好不好
我們在一起嘛好不好

在一起嘛好不好

_
作詞 Lyricist:李榮浩 Ronghao Li
作曲 Composer:李榮浩 Ronghao Li
編曲 Arrangement:李榮浩 Ronghao Li
製作人 Producer:李榮浩 Ronghao Li
吉他 Guitars:李榮浩 Ronghao Li
貝斯 BASS:李榮浩 Ronghao Li
和音編寫 Backing Vocal Arrangement:李榮浩 Ronghao Li
和音 Backing Vocal:李榮浩 Ronghao Li
錄音師 Recording Engineer:李榮浩 Ronghao Li
混音師 Mixing Engineer:李榮浩 Ronghao Li
音樂製作助理 Production Assistant:青格樂 Chingel
錄音工作室 Recording Beijing Young Music Studio
混音工作室 Mixing Beijing Young Music Studio
母帶後期製作人 Mastering Producer:李榮浩 Ronghao Li
母帶後期處理工程師 Mastering Engineer:周天澈 TC Z.
母帶後期處理錄音室 Mastering Studio:Studio21A
_
◼︎
李榮浩官方
李榮浩官方

華納音樂官方
華納音樂官方
Weekly Chart Achieves (Top 40 Songs)
The highest charting position of the entry is #4 . The song appeared 6 total times in the Top 10 ; 15 total times in the Top 20 ; 20 total times in the Top 40 ; The worst ranking place of the video is #105. "Be With Me" has been charted in 1 trends (countries):
Monthly Chart Achieves (Top 40 Songs)
The best charting position of the entry is #4 . The song appeared 1 total times in the Top 10 ; 5 total times in the Top 20 ; 4 total times in the Top 40 ; The worst ranking place of the video is #54. "Be With Me" has been charted in 1 trends (countries):
Daily Chart Achieves (Top 100 Songs)
The highest ranking position of the entry is #4 . "Be With Me" atop the Top 100 Songs Chart for 1 total days. The song appeared 29 total times in the Top 10 ; 106 total times in the Top 20 ; 381 total times in the Top 100 ; The worst charting place of the entry is #61. Find all daily charts - Top 100 China