Loneliness

by G.e.m.

"Loneliness" is Chinese song released on 14 March 2021 in the official channel of the record label - "GEM鄧紫棋". Discover exclusive information about "Loneliness". Explore Loneliness lyrics, translations, and song facts. Earnings and Net Worth accumulated by sponsorships and other sources according to information found in the internet. How many times the Chinese song appeared in music charts compiled by Popnable? "Loneliness " is well-known music video that took placements in popular top charts, such as Top 100 China Music Chart , Top 40 Chinese Songs Chart, and more.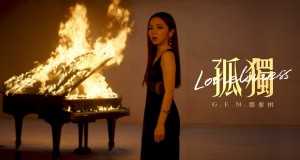 Country

China
Added
Origin Name
G.e.m.鄧紫棋【孤獨 Loneliness】Official Music Video
Report
[Not music related] [Add Artist Related] [Report Fake Views] [Remove Linked Artist] [Add Lyrics] [Add Lyrics Translation]
"Loneliness" Facts
"Loneliness" has reached 5.6M total views, 60K likes, and 768 dislikes on YouTube.

The song has been submitted on 14/03/2021 and spent 38 weeks on the charts.
The original name of the music video "Loneliness" is "G.E.M.鄧紫棋【孤獨 LONELINESS】OFFICIAL MUSIC VIDEO".
"Loneliness" has been published on Youtube at 14/03/2021 15:00:15
"Loneliness" Lyrics, Composers, Record Label
Stream/Download the song here: ​

"唯一的安撫 是知道世界之大
這一刻和你一樣 感到孤獨的無數"



《孤獨》
作曲: 鄧紫棋 / Ludwig van Beethoven
作詞: 鄧紫棋

又是另一個夜 雨飄的夜
在一條喧鬧後的街 我望著月亮

心喃喃自語 我卻又聽不見
白天 我總笑容滿面
為什麼每夜 我總輾轉難眠
自律和壓抑 到底如何分辨
說要做自己 卻不敢對自己正眼

原來孤獨 是燈光下 所有人都對我佩服
但月光下 卻一直害怕自己退步
你別停下 有個聲音催促

If ain't nobody stayed with me
那這是演給誰的戲

到最後 怕自己也沒什麼不同
也背向了背向了初衷

皎潔的月光 請潔淨我
洗淨年月潑的墨
熄滅我吞下的煙火

我從小到大 凡事都要做到第一位
再艱難咬著牙 再累我不流一滴淚
天賦不能浪費

這世界告訴你 成功要靠自己

我已經變得熱可炙手


原來孤獨
站在高處 傷口得自己捂住 無處哭訴



They say when you're lonely, Hang out with homies
他們不懂 說得容易 但我的Home裡只有Me

皎潔的月光 請潔淨我
洗淨年月潑的墨
熄滅我吞下的煙火

對自己說了多少遍 I'm a superwoman
我逼著心裡面 那渴望愛的小女生
要學會成熟點 有話就說給日記本
終於發現世界再冷 沒有我對自己狠

我爸教我恆心能讓 鐵柱變成針
但一不小心能讓 泥足陷很深

問問自己

原來孤獨 是想哭卻又不想矚目
是努力融入 但你還
是不想辜負 了期待 你卻又感覺束縛
唯一的安撫 是知道世界之大
這一刻和你一樣 感到孤獨的 無數

訂閱我的頻道!!! Subscribe to my channel !!!????????????????????????

Instagram: @gem0816
Facebook:
Weibo: ​

#鄧紫棋​ #孤獨
Weekly Chart Achieves (Top 40 Songs)
The highest charting position of the entry is #1 . "Loneliness" atop the Top 40 Songs Chart for 1 total weeks. The song appeared 6 total times in the Top 10 ; 6 total times in the Top 20 ; 24 total times in the Top 40 ; The worst ranking place of the video is #58. "Loneliness" has been charted in 1 trends (countries):
Monthly Chart Achieves (Top 40 Songs)
The best charting position of the entry is #1 . The song appeared 2 total times in the Top 10 ; 1 total times in the Top 20 ; 5 total times in the Top 40 ; The worst ranking place of the video is #30. "Loneliness" has been charted in 1 trends (countries):
Daily Chart Achieves (Top 100 Songs)
The highest ranking position of the entry is #1 . "Loneliness" atop the Top 100 Songs Chart for 12 total days. The song appeared 36 total times in the Top 10 ; 53 total times in the Top 20 ; 176 total times in the Top 100 ; The worst charting place of the entry is #32. Find all daily charts - Top 100 China