Moira

by Josephine

"Moira" is Greek song released on 06 November 2023 in the official channel of the record label - "PanikRecordsTube". Discover exclusive information about "Moira". Explore Moira lyrics, translations, and song facts. Earnings and Net Worth accumulated by sponsorships and other sources according to information found in the internet. How many times the Greek song appeared in music charts compiled by Popnable? "Moira " is well-known music video that took placements in popular top charts, such as Top 100 Greece Music Chart , Top 40 Greek Songs Chart, and more.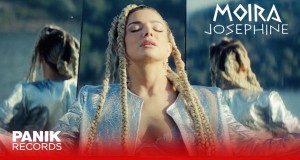 Josephine "Moira"

on Apple Music Unlimited

Over 100 million songs. Zero Ads.

Click to sign up now
Country

Greece
Added
Origin Name
Josephine - Μοίρα - Official Music Video
Report
[Not music related] [Add Artist Related] [Report Fake Views] [Remove Linked Artist] [Add Lyrics] [Add Lyrics Translation]
"Moira" Facts
"Moira" has reached 1.5M total views, 15.8K likes, and dislikes on YouTube.

The song has been submitted on 06/11/2023 and spent 5 weeks on the charts.
The original name of the music video "Moira" is "JOSEPHINE - ΜΟΊΡΑ - OFFICIAL MUSIC VIDEO".
"Moira" has been published on Youtube at 06/11/2023 17:00:11
"Moira" Lyrics, Composers, Record Label
Subscribe:
Buy/Stream here:
Spotify:
iTunes/Apple Music:
Deezer:

Μουσική – Στίχοι: APON

Ενορχήστρωση, Παραγωγή: IAMSTRONG
Μίξη, Recording, Mastering: Παναγιώτης Μπρακούλιας

Directed by George Mpenioudakis

Cinematography by Angelos Apergis
Production manager: Yiannis Machairas
Production assistants: George Pallikaris, Nikos Kantzilieris
Steadycam operator: Vasilis Parousis
Focus puller: Stratos Kourlis
Gaffer: Andreas Lioliakis

Editing by Giorgos Fou
Coloring by Mitya Kuznetsov

Styling: Mirto Margari
Make up: Leanna Markoglou
Hair styling: Konstantinos Papadopoulos

Στίχοι/Lyrics:
Αυτή είναι η μόνη μοίρα μου
Έτσι να αγαπώ
Αυτοί να με πληγώνουνε
Και εγώ να τα ξεχνώ

Στο λέω αυτή είναι η μοίρα μου
Και μόνη αδυναμία μου
Να περιμένω θαύματα
Ανάθεμα το πείσμα μου

Στο λέω αυτή είναι η μοίρα μου
Και μόνη αδυναμία μου
Δεν άλλαξαν τα πράγματα
Ανάθεμα το πείσμα μου

Δε σου πάει ο νους
Το ποσό σ αγαπώ μα δε μ ακούς
Στο είχα πει ανήκω στο τρελούς
Που αντέχουνε σε δύσκολους καιρούς
περνάς και σου ζητώ
Οι καρδίες μας άλλο να μην παίζουν κρυφτό
Το προσπερνάς δεν απαντάς
Το μόνο που θυμόσουνα να με ξεχνάς

Στο λέω αυτή είναι η μοίρα μου
Και μόνη αδυναμία μου
Να περιμένω θαύματα
Ανάθεμα το πείσμα μου

Στο λέω αυτή είναι η μοίρα μου
Και μόνη αδυναμία μου
Δεν άλλαξαν τα πράγματα
Ανάθεμα το πείσμα μου

Άκου με άκου με
Μη μου λες σε όλα ναι
Ξέρω δε τα εννοείς
Ψέματα αλλά μη μου πεις
Αν μου λείπεις τα βράδια μου μωρό μου
Όχι μη ρωτάς
Έρχεσαι για να φύγεις το νιώθω
Τα λεπτά μετράς

Στο λέω αυτή είναι η μοίρα μου
Και μόνη αδυναμία μου
Να περιμένω θαύματα
Ανάθεμα το πείσμα μου

Στο λέω αυτή είναι η μοίρα μου
Και μόνη αδυναμία μου
Δεν άλλαξαν τα πράγματα
Ανάθεμα το πείσμα μου

Powered by :
#BacardiGr #DoWhatMovesYou


#Josephine #moira #takalakoristiaalbum

Follow Josephine on Social Platforms
Instagram:
TikTok:


ENTER THE PANIK WORLD






Save & Like Our Playlists On Spotify
Best Greek Hits 2023 |
Greep Rap |
Weekly Chart Achieves (Top 40 Songs)
The highest charting position of the entry is #3 . The song appeared 1 total times in the Top 10 ; 3 total times in the Top 20 ; The worst ranking place of the video is #212. "Moira" has been charted in 1 trends (countries):
Monthly Chart Achieves (Top 40 Songs)
The best charting position of the entry is #3 . The song appeared 1 total times in the Top 40 ; The worst ranking place of the video is #24. "Moira" has been charted in 1 trends (countries):
Daily Chart Achieves (Top 100 Songs)
The highest ranking position of the entry is #3 . The song appeared 9 total times in the Top 10 ; 20 total times in the Top 20 ; 2 total times in the Top 100 ; The worst charting place of the entry is #26. Find all daily charts - Top 100 Greece