"Jalsa 2.0" is Indian song released on 16 September 2023 in the official channel of the record label - "". Discover exclusive information about "Jalsa 2.0". Explore Jalsa 2.0 lyrics, translations, and song facts. Earnings and Net Worth accumulated by sponsorships and other sources according to information found in the internet. How many times the Indian song appeared in music charts compiled by Popnable? "Jalsa 2.0 " is well-known music video that took placements in popular top charts, such as Top 100 India Music Chart , Top 40 Indian Songs Chart, and more.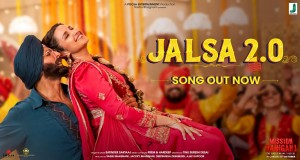 Country
India
Added
Origin Name
Jalsa 2.0 | Akshay K & Parineeti C | Satinder Sartaaj | Prem&hardeep | Mission Raniganj |Jjust Music
Report
[Not music related] [Add Artist Related] [Report Fake Views] [Remove Linked Artist] [Add Lyrics] [Add Lyrics Translation]
"Jalsa 2.0" Facts
"Jalsa 2.0" has reached 18.9M total views, 249.1K likes, and dislikes on YouTube.

The song has been submitted on 16/09/2023 and spent 2 weeks on the charts.
The original name of the music video "Jalsa 2.0" is "JALSA 2.0 | AKSHAY K & PARINEETI C | SATINDER SARTAAJ | PREM&HARDEEP | MISSION RANIGANJ |JJUST MUSIC".
"Jalsa 2.0" has been published on Youtube at 16/09/2023 16:21:51
"Jalsa 2.0" Lyrics, Composers, Record Label
Enjoy THE BIGGEST CELEBRATION OF THE YEAR by grooving to the beats of 'Jalsa' sung by Satinder Sartaaj, starring Akshay Kumar and Parineeti Chopra from the movie 'Mission Raniganj', releasing in cinemas on October 6th.

#Jalsa #AkshayKumar #ParineetiChopra #MissionRaniganj #SatinderSartaaj #Prem&Hardeep # #JjustMusic #newsong

A Pooja Entertainment Production
Vashu Bhagnani Presents
MISSION RANIGANJ: THE GREAT BHARAT RESCUE
Directed by Tinu Suresh Desai
Produced By Vashu Bhagnani, Jackky Bhaghani, Deepshikha Deshmukh, Ajay Kapoor
Cast: Akshay Kumar, Parineeti Chopra, Dibyendu Bhattacharya, Ravi Kishan, Kumud Mishra, Rajesh Sharma, Varun Badola, Pavan Malhotra

Stream JALSA











Audio Credits

Singer - Satinder Sartaaj
Music Prem & Hardeep
Lyrics - Satinder Sartaaj
Music Produced & Arranged By - Prem & Hardeep
Programming by - Prem & Hardeep
Dhol, Dholak & Tabla By - Juggy Rihal
Recorded At - Planet Studios Coventry UK
Recorded By - Tom Lowry
Chorus By - Jelly Manjitpuri, Laddi & Gurdeep Singh
Recorded At - Sangeetika Studios Mohali Punjab
Recorded By - Pankaj Ahuja
Banjo & Mandolin By - Tapas Roy
Recorded At - MW Studio Mumbai
Recorded By - Utsav Ghosh
Mix & Mastering - Sameer Charegaonkar

Special Thanks To Jasjeet Singh

Original Sound Recording Jalsa Owned By Hardip Sidhu

????Audio on Jjust Music Label ;Ltd.

Lyrics

Chandni Ne Punneya Te Jalsa Lagaya
Saddaa Cheel Nu Vi Aaya, Chand Mukh Mehmaan Si
Chandni Ne Punneya Te Jalsa Lagaya
Saddaa Cheel Nu Vi Aaya, Chand Mukh Mehmaan Si
Rishma ;Rishma
Rishma Ne Doodhiya Jehi Paayi Si Poshaak
Maari Taareyan Nu Haak, Oh Taan Hor Hi Jahaan Si
Rishma Ne Doodhiya Jehi Paayi Si Poshaak
Maari Taareyan Nu Haak, Oh Taan Hor Hi Jahaan Si
Rukhan Thalle Digge Paye Si, Ho Ke Latt Baure
Ji Sharaabi Ho Gaye Bhaure, Pee Ke Tupkaa Tarel Da
Rukhan Thalle Digge Paye Si, Ho Ke Latt Baure
Ji Sharaabi Ho Gaye Bhaure, Pee Ke Tupkaa Tarel Da
Shokh Jehiyan… Shokh
Shokh Jehiyan Mehkan Ne Phir Aa Ke Samjhaya
Surkhaab Nu Bulaya, Jo Tareeka Dasse Mel Da
Shokh Jehiyan Mehkan Ne Phir Aa Ke Samjhaya
Surkhaab Nu Bulaya, Jo Tareeka Dasse Mel Da
Paaniyan De Sheeshe Vekh Hoyian Ne Jawaan
Ehe Dhuppan Nu Gumaan, Dasso Kehda Saade Mech Da
Paaniyan De Sheeshe Vekh Hoyian Ne Jawaan
Dhuppan Nu Gumaan, Dasso Kehda Saade Mech Da
Mausamaa Ne Ditte Pher, Byaan Vi Jawaabi
Ho Gayi Guftgoo Oh Naabhi, Koi Rutta'n Nu Rang Vechda
Mausamaa Ne Ditte Pher, Byaan Vi Jawaabi
Ho Gayi Guftgoo Oh Naabhi, Koi Rutta'n Nu Rang Vechda
Soorja Vi Hoya Phireh Baddliyan De Ohle
Shaami Kiseh Naal Na Bole, Ki Oh Lukka Chhupi Khelda
Soorja Vi Hoya Phireh Baddliyan De Ohle
Kiseh Naal Na Bole, Ki Oh Lukka Chhupi Khelda
Maadi ;Maadi
Oh Maadi Maadi Thandak Hawaawan Vich Hoyi
Saanu Aundi Khushboyi, Rang Vekh Ke Du-Mel Da
Maadi Maadi Thandak Hawaawan Vich Hoyi
Saanu Aundi Khushboyi, Rang Vekh Ke Du-Mel Da
Pyaar Wale Pind Diyan, Mehakdiyan Joohan
Agge Sandli Abroohan, Teh Balouri Dehleez Hai
Pyaar Wale Pind Diyan, Mehakdiyan Joohan
Sandli Abroohan, Teh Balouri Dehleez Hai
Dilan Wale Kamre Ch Noor Howega, Ji Haan Jaroor Howega
Ke Ishq Roshni Di Cheez Hai
Dilan Wale Kamre Ch Noor Howega, Ji Haan Jaroor Howega
Ke Ishq Roshni Di Cheez Hai
Suneya Ke Tera Kaale Rang Da Taweet
Vich Saambhe Hoye Ne Geet, Ni Tu Maahi Sartaaj De
Howe Taan ;Howe Taa
Howe Taan Je Howe Sacchi Eho Jehi Preet
Eh Mohabbtan Di Reet, Lokin Ese Nu Nawaazde
Howe Taan Je Howe Sacchi Eho Jehi Preet
Eh Mohabbtan Di Reet, Lokin Ese Nu Nawaazde

Follow us:

????Instagram:
????Twitter:
????Facebook:
Weekly Chart Achieves (Top 40 Songs)
The highest charting position of the entry is #4 . The song appeared 1 total times in the Top 10 ; The worst ranking place of the video is #130. "Jalsa 2.0" has been charted in 1 trends (countries):
Daily Chart Achieves (Top 100 Songs)
The highest ranking position of the entry is #4 . "Jalsa 2.0" atop the Top 100 Songs Chart for 2 total days. The song appeared 6 total times in the Top 10 ; 3 total times in the Top 20 ; 2 total times in the Top 100 ; The worst charting place of the entry is #50. Find all daily charts - Top 100 India