Nuktat Duaf

by Esraa Alasel

"Nuktat Duaf" is Iraqi song released on 16 October 2021 in the official channel of the record label - "الريماس - AlRemas". Discover exclusive information about "Nuktat Duaf". Explore Nuktat Duaf lyrics, translations, and song facts. Earnings and Net Worth accumulated by sponsorships and other sources according to information found in the internet. How many times the Iraqi song appeared in music charts compiled by Popnable? "Nuktat Duaf " is well-known music video that took placements in popular top charts, such as Top 100 Iraq Music Chart , Top 40 Iraqi Songs Chart, and more.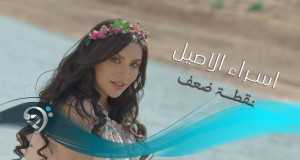 Country
Iraq
Added
Origin Name
اسراء الاصيل - نقطة ضعف (حصرياً) | Esraa Alasel - Nuktat Duaf - 2021
Report
[Not music related] [Add Artist Related] [Report Fake Views] [Remove Linked Artist] [Add Lyrics] [Add Lyrics Translation]
"Nuktat Duaf" Facts
"Nuktat Duaf" has reached 5.3M total views, 112.6K likes, and 2.8K dislikes on YouTube.

The song has been submitted on 16/10/2021 and spent 7 weeks on the charts.
The original name of the music video "Nuktat Duaf" is "اسراء الاصيل - نقطة ضعف (حصرياً) | ESRAA ALASEL - NUKTAT DUAF - 2021".
"Nuktat Duaf" has been published on Youtube at 16/10/2021 17:59:36
"Nuktat Duaf" Lyrics, Composers, Record Label
اسراء الاصيل - نقطة ضعف (حصرياً) | Esraa Alasel - Nuqtat Duaf - 2021
Subscribe Now | أشتركوا الأن
في قناة الريماس ليصلكم كل ماهو جديد للأغاني العراقية والخليجية قبل أي أحد


Music Alremas
Follow us on :

▶ Facebook
▶Instagram:
▶Snapchat:
▶Tiktok:

كلمات : احمد السلطاني
الحان : سيف عامر
توزيع ومكس وماسترينغ : ميشيل شابو
اخراج : احمد الطائي
مونتاج : تراث حسن

▶ كلمات الاغنية
ماعندي اي نقطة ضعف
وعيونك تضعفني
كلما شفتهن ارتبك
ونظراتك تموتني

تخبل واعشگك من صدك من تزعل تخوفني
خليني وياك اني اضل للموت لاتتركني

لتعوفني ودللني
ومن اغلط تحملني
سامحني لتأذيني
يابعد گلبي وعيني

روحي بيدك سلمتها وانت ومروتك بعد
ابقى حبها واتعبلها رادتك تبقى سند

ما اگدر اتمالك بعد نفسي من اشوفك يمي
احتاج احضنك من صدگ مليت بس بحلمي

تحبني واحبك حب طفل وحضنك زوال لهمي

صدگني بفراگك متت يل تمشي صرت بدمي


لتشوفني اضحك اني
رايد اغطي احزاني
يل بيه عايش كل وكت
بس بيك يحجي لساني

روحي بيدك سلمتها وانت ومروتك بعد
ابقى حبها واتعبلها رادتك تبقى سند

يلي ع الحب علمتها احتاجك گليبي تعب
من زمان انت خذتها ارجعلي مو شفت العجب
Weekly Chart Achieves (Top 40 Songs)
The highest charting position of the entry is #5 . The song appeared 1 total times in the Top 10 ; 1 total times in the Top 20 ; 3 total times in the Top 40 ; The worst ranking place of the video is #410. "Nuktat Duaf" has been charted in 2 trends (countries):
Monthly Chart Achieves (Top 40 Songs)
The best charting position of the entry is #5 . The song appeared 1 total times in the Top 40 ; The worst ranking place of the video is #179. "Nuktat Duaf" has been charted in 2 trends (countries):
Daily Chart Achieves (Top 100 Songs)
The highest ranking position of the entry is #5 . The song appeared 9 total times in the Top 10 ; 8 total times in the Top 20 ; 44 total times in the Top 100 ; The worst charting place of the entry is #100. Find all daily charts - Top 100 Iraq