"Mille" is Italian song released on 14 June 2021 in the official channel of the record label - "FedezVEVO". Discover exclusive information about "Mille". Explore Mille lyrics, translations, and song facts. Earnings and Net Worth accumulated by sponsorships and other sources according to information found in the internet. How many times the Italian song appeared in music charts compiled by Popnable? "Mille " is well-known music video that took placements in popular top charts, such as Top 100 Italy Music Chart , Top 40 Italian Songs Chart, and more.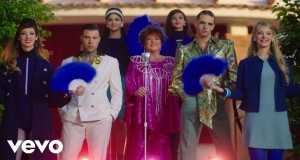 Country
Italy
Added
Origin Name
Fedez, Achille Lauro, Orietta Berti - Mille (Official Video)
Report
[Not music related] [Add Artist Related] [Report Fake Views] [Remove Linked Artist] [Add Lyrics] [Add Lyrics Translation]
"Mille" Facts
"Mille" has reached 88.2M total views, 579.3K likes, and 0 dislikes on YouTube.

The song has been submitted on 14/06/2021 and spent 31 weeks on the charts.
The original name of the music video "Mille" is "FEDEZ, ACHILLE LAURO, ORIETTA BERTI - MILLE (OFFICIAL VIDEO)".
"Mille" has been published on Youtube at 14/06/2021 15:00:30
"Mille" Lyrics, Composers, Record Label
Il filmato contiene marchi e prodotti per fini ;Product Placement: Coca-Cola


Fedez, Achille Lauro Feat Orietta Berti "MILLE"

#Fedez #achilleLauro #OriettaBerti #MILLE

Ascolta mille qui

Prodotto da Antonio Giampaolo per Maestro
Regia: Giulio Rosati
Organizzatore Generale: Giammario D'Eramo
Creatività: Giulio Rosati, Gianluca Colombo
Aiuto Regia: Daniele Barbiero

Direttore di Produzione: Livia Gabriotti
Coordinatrici di Produzione: Lucrezia Graziano, Giulia De Mango
Assistenti di Produzione: Valentina Grilli, Virginia Micati
Runner: Alis Sandro Zaraket

DOP: Davide Manca

Editing: Giulio Rosati
;Editing: Gianluca Colombo
Colorist: Alessandro Rocchi
;Colorist: Margherita Marzari

1st AC: Gianluca Iaschi
2nd AC: Lara Ipek
Tecnico Phantom: Matteo Passigato
Video Assist: Leonardi Chillemi
DIT: Francesco Tauro
Capo Squadra Elettricisti: Daniele Zonetti
Elettricisti: Mirko Puleio, Antonio Fortunati, Alessandro Giordano
Capo Squadra Macchinisti: Mario De Giacomo
Macchinisti: Stefano Giannini, Gianluca Aversa
Macchinisti Jimmy Jib: Francesco Marchi, Giovanni Moratelli, Giuseppe Zanchini
Gruppista: Giancarlo Vasciaveo
Autista mezzo tecnico: Roberto Fassi
Catering: Make Green

Scenografo: Alessandro Iacopelli
;Scenografo: Alessandra Voglino
Attrezzisti: Fabio Ratari, Michele Ignomeriello, Davide Fratticci

Styling Fedez: Giulio Casagrande
;Stylist: Ilaria Poloni

Styling Achille Lauro & Orietta Berti: Niccolò Cerioni
;Stylist: Michele Potenza, Arianna Beachi

Costumista: Giorgia Andreazza
;Costumista: Gaia Poppi

Make Up Artist Fedez: Serena Polh
Hair Stylist Fedez: Brian Cantarosso

Make Up Artist Achille Lauro & Orietta Berti:
Hair Stylist Achille Lauro: Domenico La Serra

Make Up Artist comparse: Lucrezia Ramundi
;Make up: Valentina Michele, Annalisa Parisi

Hair Stylist comparse: Francesca Marongiu
;Hair Stylist: Daniela Lucchi

Coreografa: Alessandra Valenti

Coordinamento nuoto sincronizzato: Asia Massimi

Video BTS: Renato De Blasio, Lorenzo Gargiulo
Foto BTS: Sara Sabatino, Giulia Parmigiani

Drag Queens: Eva Paradise, Paola Penelope

Cast: Fabio Loffredo, Fabrizio Galeoni, Chiara Corridori, Jennifer Sanchez Aguilar, Ambra Ciardiello, Beatrice Giacomelli, Valentina Albani, Isabella Torto, Maria Livia D'Urso, Paolo Masciarelli, Sergio Tirletti, Antonino Porzio, Salvatore Gullotta, Anna Rinaldi, Francesco Pascucci, Edoardo Degli Abbati, Cesar Augusto Camargo, Lucrezia Terenzi, Lorenza Costa, Ludovica Fabozzi, Giulia Carpentieri, Raffaella Baldi, Paolo Izzo, Franck Yannick Gueye, Giulia De Giacomo, Elena De Guilmi, Anna Renata Szwedo

Special Thanks to:
Barberia degli Ubaldi e tutto il suo team, Villa delle Rose, Bottega Popolare, Acqua in lattina WAMI, BTruck Srl, Urbanity Srl, Palmieri Domenico, Milano Transfer, Carlo Avella, Simona Curcio

Il video è stato realizzato rispettando tutte le misure di sicurezza a tutela del contenimento del virus COVID- 19
Weekly Chart Achieves (Top 40 Songs)
The highest charting position of the entry is #1 . "Mille" atop the Top 40 Songs Chart for 1 total weeks. The song appeared 22 total times in the Top 10 ; 9 total times in the Top 20 ; The worst ranking place of the video is #420. "Mille" has been charted in 2 trends (countries):
Monthly Chart Achieves (Top 40 Songs)
The best charting position of the entry is #1 . The song appeared 5 total times in the Top 10 ; 2 total times in the Top 20 ; The worst ranking place of the video is #465. "Mille" has been charted in 2 trends (countries):
Daily Chart Achieves (Top 100 Songs)
The highest ranking position of the entry is #1 . "Mille" atop the Top 100 Songs Chart for 8 total days. The song appeared 143 total times in the Top 10 ; 74 total times in the Top 20 ; 18 total times in the Top 100 ; The worst charting place of the entry is #96. Find all daily charts - Top 100 Italy