Maktooba Leek

by Elissa

"Maktooba Leek" is Lebanese song released on 09 September 2016 in the official channel of the record label - "Rotana". Discover exclusive information about "Maktooba Leek". Explore Maktooba Leek lyrics, translations, and song facts. Earnings and Net Worth accumulated by sponsorships and other sources according to information found in the internet. How many times the Lebanese song appeared in music charts compiled by Popnable? "Maktooba Leek " is well-known music video that took placements in popular top charts, such as Top 100 Lebanon Music Chart , Top 40 Lebanese Songs Chart, and more.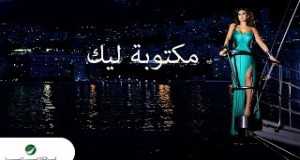 Country

Lebanon
Added
Origin Name
Elissa ... Maktooba Leek - With Lyrics | إليسا ... مكتوبه ليك - بالكلمات
Report
[Not music related] [Add Artist Related] [Report Fake Views] [Remove Linked Artist] [Add Lyrics] [Add Lyrics Translation]
"Maktooba Leek" Facts
"Maktooba Leek" has reached 191.8M total views, 857.7K likes, and 60.7K dislikes on YouTube.

The song has been submitted on 09/09/2016 and spent 261 weeks on the charts.
The original name of the music video "Maktooba Leek" is "ELISSA ... MAKTOOBA LEEK - WITH LYRICS | إليسا ... مكتوبه ليك - بالكلمات".
"Maktooba Leek" has been published on Youtube at 08/09/2016 23:02:00
"Maktooba Leek" Lyrics, Composers, Record Label
كلمات : نادر عبد الله , ألحان : محمد يحيى
من ألبوم ... سهرنا يا ليل
From Album ... Saharna Ya Leil

Rotana Music | Subscribe: ;إشترك علي قناة روتانا

اسمع كل أغاني إليسا على ديزر


كلمات الأأغنية


أغلى الحبايب يللي عن حياتي غايب
لو عدى عمري كلو مش هانساه
وحياة غلاوتو قلبي من فراقو دايب
وحشاني دنيا عشت فيها معاه
مهما في حياتي العمر فات فاكرا لو أجمل ذكريات
جوايا حاتعيش بالسنين
لسا الحنين في القلب ليه
دا اللي إحنا عشنا ليالي فيه
في العمر ما يجيش مرتين

مهما هاقابل بعد منو ناس كتيره
لسا اللي بينا في قلبي زي زمان
والله ما ليا في الدنيا دي غيرو سيره
عمري ما عز عنو روحي كمان

كلمات الأغنية

مكتوبة ليك إني أنا اللي تعيشلها..
مكتوبة على إسمك حياتي كلها..
أول ما قلت بحب كانت ليا أنا..
مين تستاهلها غيري أو تتقالها..

مكتوبة ليك و أهي كل حاجة بوقتها..
تكمل حياتك بيا لما دخلتها..
وقت أما شافك قلبي شافت عيني فيك..
صورة حبيبي اللي في خيالي رسمتها..

قول بقي يا حبيبي..حبيبي..
لمين انا لو مش ليك
قول بقي يا حبيبي..حبيبي..
هحب في مين غير فيك
طب دا أنا أيامي..أحلامي..
و حياتي واقفة عليك....



موعودة بيك تبقي إنت بختي و قسمتي..
موعودة بيك من قبل ما اتقابل معاك..
مشاعري حبي حناني شوقي و لهفتي..
متصدقين مني لإني مصدقاك..

#Elissa
#Rotana
Weekly Chart Achieves (Top 40 Songs)
The highest charting position of the entry is #1 . "Maktooba Leek" atop the Top 40 Songs Chart for 17 total weeks. The song appeared 171 total times in the Top 10 ; 87 total times in the Top 20 ; 4 total times in the Top 40 ; The worst ranking place of the video is #215. "Maktooba Leek" has been charted in 3 trends (countries):
Monthly Chart Achieves (Top 40 Songs)
The best charting position of the entry is #1 . "Maktooba Leek" atop the Top 40 Songs Chart for 5 total months. The song appeared 42 total times in the Top 10 ; 18 total times in the Top 20 ; The worst ranking place of the video is #989. "Maktooba Leek" has been charted in 3 trends (countries):
Daily Chart Achieves (Top 100 Songs)
The highest ranking position of the entry is #1 . "Maktooba Leek" atop the Top 100 Songs Chart for 2 total days. The song appeared 579 total times in the Top 10 ; 448 total times in the Top 20 ; 100 total times in the Top 100 ; The worst charting place of the entry is #100. Find all daily charts - Top 100 Lebanon