"Suasana Hari Lebaran" is Malaysian song released on 13 May 2020 in the official channel of the record label - "Aries Music". Discover exclusive information about "Suasana Hari Lebaran". Explore Suasana Hari Lebaran lyrics, translations, and song facts. Earnings and Net Worth accumulated by sponsorships and other sources according to information found in the internet. How many times the Malaysian song appeared in music charts compiled by Popnable? "Suasana Hari Lebaran " is well-known music video that took placements in popular top charts, such as Top 100 Malaysia Music Chart , Top 40 Malaysian Songs Chart, and more.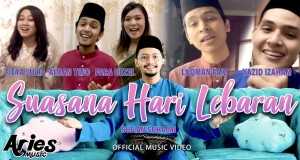 Watch on Youtube
Video
Suasana Hari Lebaran
Country

Malaysia
Added
Origin Name
Suasana Hari Lebaran - Sufian, Aiman, Fieya, Luqman, Yazid, Fara (Official Music Video)
Report
[Not music related] [Add Artist Related] [Report Fake Views] [Remove Linked Artist] [Add Lyrics] [Add Lyrics Translation]
"Suasana Hari Lebaran" Facts
"Suasana Hari Lebaran" has reached 100.5K total views, 3.8K likes, and 56 dislikes on YouTube.

The song has been submitted on 13/05/2020 and spent 2 weeks on the charts.
The original name of the music video "Suasana Hari Lebaran" is "SUASANA HARI LEBARAN - SUFIAN, AIMAN, FIEYA, LUQMAN, YAZID, FARA (OFFICIAL MUSIC VIDEO)".
"Suasana Hari Lebaran" has been published on Youtube at 12/05/2020 12:00:11
"Suasana Hari Lebaran" Lyrics, Composers, Record Label
SUBSCRIBE:

Artist Aries Music :
Sufian Suhaimi, Aiman Tino, Fara Hezel, Fieya Julia, Luqman Faiz, Yazid Izaham

SUASANA HARI LEBARAN
Ciptaan : ;Atan (Aries Music Production)
Lirik: Siso Kopratasa (Aries Music Production)
©️ 2020 Aries Music Sdn Bhd.

Lagu terbaru sempena sambutan Aidil fitri lagu ciptaan ;Atan dan lirik ditulis Siso Kopratasa ini telah dirakam pada minggu pertama bulan Mac 2020 yang dibarisi oleh penyanyi popular terkini iaitu Sufian Suhaimi, Aiman Tino, Fara Hazel, Fieya Julia, Luqman Faiz dan Yazid ;Mengikut perancangan awal Muzik Video lagu ini mulanya dijadualkan memulakan penggambaran pada hujung bulan Mac namun yang demikian hasrat itu tidak kesampaian apabila dunia dilanda pendemik virus corona atau Convid-19 dan Malaysia tidak ketinggalan mengenakan Perintah Kawalan Pergerakan(PKP) kepada rakyat negara ini oleh ;dengan kerjasama artis yang terlibat akhirnya terhasil lah Muzik Video yang berupa rakaman dari ;Seperti kata perpatah 'jauh di mata tapi dekat dihati', gabungan rakaman ini di harap dapat memuaskan hati peminat tidak kira dimana ;kasih diucapkan kepada semua artis yang terlibat dalam MV ini tanpa kerjasama anda Music Video #stayathome ini tidak akan terjadi.

Aktifkan nada pemanggil ini dengan cara berikutnya:
Celcom Call Me Tones (CMT) Dail *323*729095# , tekan Hantar
Maxis Caller Ringtones (CRT) Dail *131*658814# , tekan Hantar
UMobile Caller Ringtone (CR) SMS taip CRM 9809933 ke 28383
DiGi Caller Tunes (CT) Dail *233*1368650# , tekan Hantar

Apple Music & iTunes:
Spotify: ;
JOOX:
KKBOX:
DEEZER:


### FOLLOW US ###

youtube subscribe:


dailymotion subscribe:


twitter:


facebook:


instagram



Artiste Booking:
+603-95479810 Pejabat Aries Music
+601111662521 (Mahadhir Mohamad)
+60126371844 ( Zamani )

All Rights Reserved by Aries Music Sdn Bhd
#laguraya2020 #SuasanaHariLebaran
Weekly Chart Achieves (Top 40 Songs)
The highest charting position of the entry is #107 . The worst ranking place of the video is #154. "Suasana Hari Lebaran" has been charted in 1 trends (countries):
Monthly Chart Achieves (Top 40 Songs)
The best charting position of the entry is #107 . The worst ranking place of the video is #971. "Suasana Hari Lebaran" has been charted in 1 trends (countries):
Daily Chart Achieves (Top 100 Songs)
The highest ranking position of the entry is #107 . The song appeared 2 total times in the Top 100 ; The worst charting place of the entry is #82. Find all daily charts - Top 100 Malaysia