"Décapotable" is Moroccan song released on 09 August 2018 in the official channel of the record label - "Zouhair Bahaoui | زهير بهاوي". Discover exclusive information about "Décapotable". Explore Décapotable lyrics, translations, and song facts. Earnings and Net Worth accumulated by sponsorships and other sources according to information found in the internet. How many times the Moroccan song appeared in music charts compiled by Popnable? "Décapotable " is well-known music video that took placements in popular top charts, such as Top 100 Morocco Music Chart , Top 40 Moroccan Songs Chart, and more.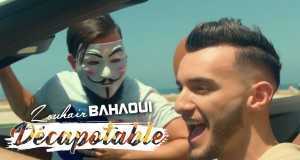 Country

Morocco
Added
Origin Name
Zouhair Bahaoui - Décapotable (Exclusive Music Video) | (زهير البهاوي - دكابوطابل (فيديو كليب حصري
Report
[Not music related] [Add Artist Related] [Report Fake Views] [Remove Linked Artist] [Add Lyrics] [Add Lyrics Translation]
"Décapotable" Facts
"Décapotable" has reached 552.9M total views, 3.7M likes, and 0 dislikes on YouTube.

The song has been submitted on 09/08/2018 and spent 209 weeks on the charts.
The original name of the music video "Décapotable" is "ZOUHAIR BAHAOUI - DÉCAPOTABLE (EXCLUSIVE MUSIC VIDEO) | (زهير البهاوي - دكابوطابل (فيديو كليب حصري".
"Décapotable" has been published on Youtube at 08/08/2018 21:00:02
"Décapotable" Lyrics, Composers, Record Label
حمل واستمع ل "دكابوطابل" على جميع المنصات:

اشترك في قناة زهير البهاوي الرسمية:


زهير بهاوي - دكابوطابل (فيديو كليب حصري) | 2018
Zouhair Bahaoui - DÉCAPOTABLE (EXCLUSIVE Music Video) | 2018

Lyrics & Melody : Zouhair Bahaoui
Arrangement : Bilal Africano
Directed by : Hassan El Kourfti

توزيع ديجيتال: شركة قنوات

Lyrics :

خوني عيشي la vie كيفما بغيتي
منك بزاف ولا نسيتي منك بزاف
رولي ركبي فالحديد كيفما بغيتي
منك بزاف ولا نسيتي منك بزاف

وانا ربي عليا شاهد اووووييي اوو
خلي داك الجمل راكد اووووييي اوو

ف حديدة Décapotable
شفتك هازة Portable
باش تبان عليا ف Story
زيدي ميلي و زيدي دوري
ف حديدة Décapotable
شفتك هازة Portable
أنا مليت من هاد Story
غير كسيري ولالا دوري

حدي هادي و هادي و هاديك

قولي و عاودي للناس لي بغيتي
منك بزاف ولا نسيتي منك بزاف
وSorry أنا ما غندير لي بغيتي
منك بزاف ولا نسيتي منك بزاف

و غير قولوا أنا ما عندي مشكل معاها
و منحسدو لا غيري داها
مبغيت واحدة فحالك غانجيبا Bomba
و غير قولوا أنا ما عندي مشكل معاها
و Bailando لا غيري داها
واحدة فحالك نلقاها بزربة


ـــــــــــــ
Official Facebook:
Official Twitter:
Official Instagram:
Official Soundcloud:
Official Youtube:
Official Google+:

#Zouhair_Bahaoui #DÉCAPOTABLE #زهير_بهاوي
Weekly Chart Achieves (Top 40 Songs)
The highest charting position of the entry is #1 . "Décapotable" atop the Top 40 Songs Chart for 39 total weeks. The song appeared 232 total times in the Top 10 ; 52 total times in the Top 20 ; 44 total times in the Top 40 ; The worst ranking place of the video is #499. "Décapotable" has been charted in 3 trends (countries):
Monthly Chart Achieves (Top 40 Songs)
The best charting position of the entry is #1 . "Décapotable" atop the Top 40 Songs Chart for 11 total months. The song appeared 54 total times in the Top 10 ; 9 total times in the Top 20 ; 10 total times in the Top 40 ; The worst ranking place of the video is #1000. "Décapotable" has been charted in 3 trends (countries):
Daily Chart Achieves (Top 100 Songs)
The highest ranking position of the entry is #1 . "Décapotable" atop the Top 100 Songs Chart for 210 total days. The song appeared 1526 total times in the Top 10 ; 325 total times in the Top 20 ; 781 total times in the Top 100 ; The worst charting place of the entry is #99. Find all daily charts - Top 100 Morocco