Chao! Chao!

by Super Zhorik

"Chao! Chao!" is Russian song released on 12 February 2021 in the official channel of the record label - "Super Жorik". Discover exclusive information about "Chao! Chao!". Explore Chao! Chao! lyrics, translations, and song facts. Earnings and Net Worth accumulated by sponsorships and other sources according to information found in the internet. How many times the Russian song appeared in music charts compiled by Popnable? "Chao! Chao! " is well-known music video that took placements in popular top charts, such as Top 100 Russia Music Chart , Top 40 Russian Songs Chart, and more.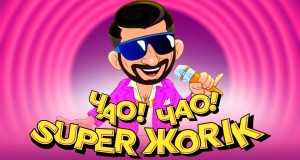 Country

Russia
Added
Origin Name
Супер Жорик - Чао! Чао! Премьера Клипа 2021
Report
[Not music related] [Add Artist Related] [Report Fake Views] [Remove Linked Artist] [Add Lyrics] [Add Lyrics Translation]
"Chao! Chao!" Facts
"Chao! Chao!" has reached 129.2M total views, 340.1K likes, and 0 dislikes on YouTube.

The song has been submitted on 12/02/2021 and spent 84 weeks on the charts.
The original name of the music video "Chao! Chao!" is "СУПЕР ЖОРИК - ЧАО! ЧАО! ПРЕМЬЕРА КЛИПА 2021".
"Chao! Chao!" has been published on Youtube at 12/02/2021 11:00:15
"Chao! Chao!" Lyrics, Composers, Record Label
Super Jorik - Ciao! Ciao!

Юбилейный третий клип легендарного певца и шоумена Супер Жорика «Чао! Чао!».

Супер Жорик во время вечеринки на яхте увлекается прекрасной Русалкой и попадает в подводный волшебный мир отечественного шоу-биза!

Подписывайтесь на канал Super Жорика и нажимайте на ????

«Спасибо всем звёздам, кто нашёл время и снялся в моём клипе!»
????❤️ Super Жорик

Спасибо молодому, но очень амбициозному бренду BY за поддержку и весьма органичное участие в нашем проекте!
Желаем активного и успешного развития Вселенной BY!


"Студия Анимации Саакянц"
Режиссёры Давид и Айк Саакянц.
Художник Эрнест Мурадян

Super Жорик - Михаил Галустян

Продюсер - Гарик Мартиросян

Автор музыки и слов
Слова: Баскаков Д.А. Калиш Д.В., Г. Мартиросян, М. Галустян
Музыка: Баскаков Д.А. Калиш Д.В.
При участии Гарика Мартиросяна и Михаила Галустяна

Arrangement by Artem Valter
Mixed by Artem Valter

Аранжировка - Артэм Вальтер
Сведение - Артэм Вальтер


Recording by: "Soundstudio8 music family"
Запись и сведение: Роман Пономаренко

Мастеринг - Дик Битхэм / Dick Beetham

Hastings, East Sussex, UK

Особенная благодарность Эдгару Акопяну

Особенная благодарность бренду BY

???? Менеджмент проекта:
+79266847627 Григорий

???? Концерты:
+79054299505 Амарас Гаспарян

Подписывайтесь на Super Жорика в социальных сетях:
✅ YouTube
✅ Instagram:
✅ TikTok:
✅ ВКонтакте:

#СуперЖорик #ЧаоЧао #CiaoCiao #СуперПремьера #SuperJorik #SuperЖорик #галустян
Weekly Chart Achieves (Top 40 Songs)
The highest charting position of the entry is #3 . The song appeared 17 total times in the Top 10 ; 43 total times in the Top 20 ; 17 total times in the Top 40 ; The worst ranking place of the video is #475. "Chao! Chao!" has been charted in 2 trends (countries):
Monthly Chart Achieves (Top 40 Songs)
The best charting position of the entry is #3 . The song appeared 4 total times in the Top 10 ; 11 total times in the Top 20 ; 3 total times in the Top 40 ; The worst ranking place of the video is #885. "Chao! Chao!" has been charted in 2 trends (countries):
Daily Chart Achieves (Top 100 Songs)
The highest ranking position of the entry is #3 . The song appeared 108 total times in the Top 10 ; 291 total times in the Top 20 ; 157 total times in the Top 100 ; The worst charting place of the entry is #93. Find all daily charts - Top 100 Russia