Maba'ash Ser

by Assala Nasri

"Maba'ash Ser" is Syrian song released on 15 August 2019 in the official channel of the record label - "Assala Nasri". Discover exclusive information about "Maba'ash Ser". Explore Maba'ash Ser lyrics, translations, and song facts. Earnings and Net Worth accumulated by sponsorships and other sources according to information found in the internet. How many times the Syrian song appeared in music charts compiled by Popnable? "Maba'ash Ser " is well-known music video that took placements in popular top charts, such as Top 100 Syria Music Chart , Top 40 Syrian Songs Chart, and more.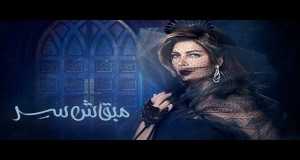 Country
Syria
Added
Origin Name
أصالة - مبقاش سر | [Assala - Maba'ash Ser [Lyrics Video
Report
[Not music related] [Add Artist Related] [Report Fake Views] [Remove Linked Artist] [Add Lyrics] [Add Lyrics Translation]
"Maba'ash Ser" Facts
"Maba'ash Ser" has reached 27.4M total views, 299.1K likes, and 8.9K dislikes on YouTube.

The song has been submitted on 15/08/2019 and spent 96 weeks on the charts.
The original name of the music video "Maba'ash Ser" is "أصالة - مبقاش سر | [ASSALA - MABA'ASH SER [LYRICS VIDEO".
"Maba'ash Ser" has been published on Youtube at 14/08/2019 12:00:19
"Maba'ash Ser" Lyrics, Composers, Record Label
أصالة - مبقاش سر | [Assala - Maba'ash Ser [LYRICS VIDEO

كلمات : امير طعيمه
الحان : احمد زعيم
توزيع : فهد
وتريات : فهد
تنفيذ وتريات : تامرغنيم
رباعي وتري ..
كمان اول : كريم فوده
كمان ثاني : مصطفى اسماعيل
فيولا : تامر غنيم
شيلو : محمود صالح
جيتار : شريف فهمي
مهندس صوت : محمد اسماعيل
ميكس : فهد

Mastering Engineer: Emre KIRAL
at Ozinga Productions studios

;: Mazen Al motagawel
Make up : Hanan Alnajadah
Hair Dresser : Ashour
Stylist : Maya Haddad

Produced by : Star Gate
Executive Producer : Anas Nasri
Distributed by : Rotana

Line Producer : Ashraf
Social Media Management : Brand Stamp
Digital Distribution Manager : Mostafa ;Shaaban
———

Post production Mercury

VFX Producer: Nada Sadiq
Senior Editor : Mohamed Ashour
Editor : Salma Abd El Aziz
Colorist: Hesham Ismail
VFX Editor: Mohamed El Gohry

Motion Graphics Director: Mohamed Nazih

Motion Graphics Astist: Taghreed Kalloub

Artwork: Reem Hany

Post Production TD: Ahmed Sherif

Assistent Editors: Mohamed Abdelhameed
Nadeen Hamad
Hagar Moftah

Conforming Assistants: Maged Al mahy
Marwa Zakria

Senior Compositor: Michael Fawzy

Compositors: Aya Mamdouh
Taha Ammar
———
مبقاش سر ..
اختياراتي تمللى تندم ..
و ما بوصلش لحاجة تسر
مبقاش سر ..
كل ما احاول يوم اتقدم ..
برجع تانى محلك سر...
قلبى تاعبنى بحكم العادة .. و الأيام عمالة تمر
دايما يشرب قهوته سادة .. و يرجع يشكى الطعم المر
دايما يختار سكة وجعى و يجرى عليها
و يخلينى حكاية الناس تفضل تحكيها
و أما اقوله يا قلبى أرحمنى يقوللى انا حر
حر فى نفسك فيا أنا لأ .. أنا أنسانة و ليا الحق
أنى اعيش العمر سعيدة .. انت زعلت ؟؟
طب خلينى اعيشلى يومين مش لازم عمر .

Follow Us At:








Snapchat: asssala

#أصالة
#مبقاش_سر
Weekly Chart Achieves (Top 40 Songs)
The highest charting position of the entry is #1 . "Maba'ash Ser" atop the Top 40 Songs Chart for 1 total weeks. The song appeared 23 total times in the Top 10 ; 11 total times in the Top 20 ; 43 total times in the Top 40 ; The worst ranking place of the video is #496. "Maba'ash Ser" has been charted in 3 trends (countries):
Monthly Chart Achieves (Top 40 Songs)
The best charting position of the entry is #1 . The song appeared 6 total times in the Top 10 ; 2 total times in the Top 20 ; 9 total times in the Top 40 ; The worst ranking place of the video is #984. "Maba'ash Ser" has been charted in 2 trends (countries):
Daily Chart Achieves (Top 100 Songs)
The highest ranking position of the entry is #1 . "Maba'ash Ser" atop the Top 100 Songs Chart for 2 total days. The song appeared 159 total times in the Top 10 ; 74 total times in the Top 20 ; 487 total times in the Top 100 ; The worst charting place of the entry is #100. Find all daily charts - Top 100 Syria