"Ya Al Zaman" is Syrian song released on 02 June 2021 in the official channel of the record label - "Lifestylez Studios". Discover exclusive information about "Ya Al Zaman". Explore Ya Al Zaman lyrics, translations, and song facts. Earnings and Net Worth accumulated by sponsorships and other sources according to information found in the internet. How many times the Syrian song appeared in music charts compiled by Popnable? "Ya Al Zaman " is well-known music video that took placements in popular top charts, such as Top 100 Syria Music Chart , Top 40 Syrian Songs Chart, and more.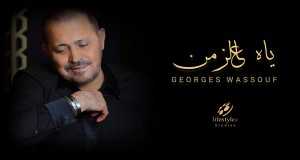 Country
Syria
Added
Origin Name
جورج وسوف | ياه عالزمن | Georges Wassouf | Ya Al Zaman | Music Video |
Report
[Not music related] [Add Artist Related] [Report Fake Views] [Remove Linked Artist] [Add Lyrics] [Add Lyrics Translation]
"Ya Al Zaman" Facts
"Ya Al Zaman" has reached 13.2M total views, 158.3K likes, and 7K dislikes on YouTube.

The song has been submitted on 02/06/2021 and spent 20 weeks on the charts.
The original name of the music video "Ya Al Zaman" is "جورج وسوف | ياه عالزمن | GEORGES WASSOUF | YA AL ZAMAN | MUSIC VIDEO |".
"Ya Al Zaman" has been published on Youtube at 02/06/2021 12:00:02
"Ya Al Zaman" Lyrics, Composers, Record Label
انتاج لايف ستايلز ستوديوز
اخراج فادي حداد
كلمات احمد المالكي
الحان مصطفي شكري
توزيع احمد امين
تسجيل صوت الفنان استديو هادي شرارة / م. ايلي بربر
ميكس وماستر هاني محروس
جيتار مصطفي نصر
ايقاعات احمد عيادي
وتريات حسن سعيد
آنون عمرو الصواف
كواله نادر الشاعر و محمد منصف
باص جيتار سيكا
تسجيل آلات استديو إم ساوند
مهندس هاني محروس

كلمات الأغنية
ياه ع الزمن والدنيا واللي بتعمله
ليه الحياه بتخلي ناس يتبدلو
ع العشره دي كان اللي شاهد ربنا
ده ماقالش حتى كلمة حلوه ف حقنا..
ولا داملنا غير جرح ساب..حبة عذاب
محتاج سنين عشان يلم ونقفله..
كان وعدنا حبه كلام..وياريته دام
اخر الطريق غير اللي بانلي ف اوله..
الوعد معنى وناس كتير بتردده
ومايعرفوش قيمته..
الحب لعنه لما ناسو بيبعدو
وعليا حرمته..
اللي جاي مبقاش خلاص قد اللي فات
واللي راح مبقاش بيرجع..
مش هاضيع تاني لو حبه ساعات
خبطتين ف القلب توجع

Facebook:
Twitter:
Instagram:
Weekly Chart Achieves (Top 40 Songs)
The highest charting position of the entry is #1 . "Ya Al Zaman" atop the Top 40 Songs Chart for 3 total weeks. The song appeared 13 total times in the Top 10 ; 7 total times in the Top 20 ; 2 total times in the Top 40 ; The worst ranking place of the video is #499. "Ya Al Zaman" has been charted in 3 trends (countries):
Monthly Chart Achieves (Top 40 Songs)
The best charting position of the entry is #1 . The song appeared 3 total times in the Top 10 ; 1 total times in the Top 20 ; 1 total times in the Top 40 ; The worst ranking place of the video is #462. "Ya Al Zaman" has been charted in 2 trends (countries):
Daily Chart Achieves (Top 100 Songs)
The highest ranking position of the entry is #1 . "Ya Al Zaman" atop the Top 100 Songs Chart for 14 total days. The song appeared 93 total times in the Top 10 ; 40 total times in the Top 20 ; 19 total times in the Top 100 ; The worst charting place of the entry is #98. Find all daily charts - Top 100 Syria