"Confetti" is UK song released on 30 April 2021 in the official channel of the record label - "littlemixVEVO". Discover exclusive information about "Confetti". Explore Confetti lyrics, translations, and song facts. Earnings and Net Worth accumulated by sponsorships and other sources according to information found in the internet. How many times the UK song appeared in music charts compiled by Popnable? "Confetti " is well-known music video that took placements in popular top charts, such as Top 100 UK Music Chart , Top 40 UK Songs Chart, and more.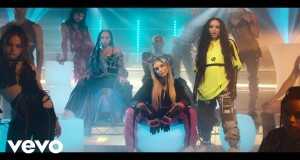 Country

UK
Added
Origin Name
Little Mix - Confetti (Official Video) Ft. Saweetie
Report
[Not music related] [Add Artist Related] [Report Fake Views] [Remove Linked Artist] [Add Lyrics] [Add Lyrics Translation]
"Confetti" Facts
"Confetti" has reached 14.2M total views, 666.4K likes, and 9.4K dislikes on YouTube.

The song has been submitted on 30/04/2021 and spent 2 weeks on the charts.
The original name of the music video "Confetti" is "LITTLE MIX - CONFETTI (OFFICIAL VIDEO) FT. SAWEETIE".
"Confetti" has been published on Youtube at 30/04/2021 11:00:00
"Confetti" Lyrics, Composers, Record Label
Little Mix – Confetti feat Saweetie (Official Video)

Listen to the new single 'Confetti' feat Saweetie:

Listen to the album 'Confetti': ;‪‬
Follow Us On Spotify - ;‬ ‪‬
Listen On Apple Music - ‬
Listen On Amazon Music - ‬
Subscribe on YouTube - ;

Sign up to our newsletter: ;‪‬

Follow Little Mix:‬ ‪Instagram - ‪‬‬
Twitter -
TikTok - ;
Facebook - ‪‬

Saweetie:
Instagram -
Twitter -
TikTok -

Special guests:
Bimini @biminibabes
Tayce @itstayce
A'whora @awhora

WATCH SWEET MELODY VIDEO ►
WATCH BREAK UP SONG VIDEO ►
WATCH HOLIDAY VIDEO ►


Lyrics:

We wanna celebrate like we in the club every day
Got all my friends here with me
And I don't need ya, I don't need ya

Got this dress up on me
So I don't need your stress up on me
Baby, we're done, c'est la vie
Now I don't need ya, I don't need ya

Should've left your ass from time ago
Didn't love me then, but now I do
I used to sit at home and cry for you
Diamonds on my neck, I shine for you
Ain't blocking my blessings anymore
Never be the girl I was before
I'ma let the good things in my life rain down

From the sky, drop like confetti
All eyes on me, so
All of my dreams, from the sky, drop like confetti
Drop it down
You're missin' me, but I'm finally free
I got what I need, so let it rain down like Confetti

Flashing lights, I ain't got no worry on my mind
Know that you're mad, I realised
That I don't need ya, I don't need ya

So, DJ, say my name like it's my birthday
You're just a memory
And, boy, I don't need ya, I don't need ya
Should've left your ass from time ago (time ago)
Didn't love me then, but now I do (now I do)
I'ma let the good things in my life rain down

From the sky, drop like confetti
All eyes on me (on me, yeah), so
All of my dreams, from the sky, drop like confetti (woah)
Drop it down
You're missin' me, but I'm finally free (finally free)
I got what I need, so let it rain down like confetti
Down (Oh, la-la-la)
Rain down (oh, la-la-la)
Let it, let it rain down (oh, la-la-la) – leigh ad lib
Let it rain down (oh, la-la-la) - leigh ad lib

So my girl hit me up about her f*ck boy dude
I say hold on hold what you say he did to you
Caught him sending d*ck pics and a couple of nudes
Sh*t we can chop it off and imma Bobbit in stew

Cuz I don't play that shit— no no
Beat his ass on — slowmo
Ride or ride on— gogo
N**** I'm a Yoko Ono
I'm an artsy b*tch
U gonna miss these lips
Now I'mma have to slap yours wit my swavorski tips

I'm a cancer baby but I got Scorpio ways
Credit high on all MY cards top one is my face
Getta pedi in my tessie ya there's plenty of space
New it girl on the block they all copy and paste

Face on Halle body on Chloe
Ain't giving you a chance imma give it to ya homie
Mood on petty
So promiscuous
How u getting to the bag when u ain't getting this?

From the sky, drop like confetti (yeah)
All eyes on me, so
All of my dreams (all of my dreams, whoa)
From the sky, drop like confetti
You're missin' me (you're missing me)

I'm totally free (I'm finally free)
I got what I need (I've got what I need)

Credits:

Director - Samuel Douek
Exec Producer - Francesca Woods
Producer - Joseph J Goldman
Production company - Believe Media
DOP - Stefan Yap
Choreographer - King Oh
Weekly Chart Achieves (Top 40 Songs)
The highest charting position of the entry is #2 . The song appeared 2 total times in the Top 10 ; 1 total times in the Top 20 ; The worst ranking place of the video is #54. "Confetti" has been charted in 3 trends (countries):
Daily Chart Achieves (Top 100 Songs)
The highest ranking position of the entry is #2 . "Confetti" atop the Top 100 Songs Chart for 1 total days. The song appeared 11 total times in the Top 10 ; 5 total times in the Top 20 ; 14 total times in the Top 100 ; The worst charting place of the entry is #99. Find all daily charts - Top 100 UK