Rapstar

by Polo G

"Rapstar" is American song released on 09 April 2021 in the official channel of the record label - "PoloGVEVO". Discover exclusive information about "Rapstar". Explore Rapstar lyrics, translations, and song facts. Earnings and Net Worth accumulated by sponsorships and other sources according to information found in the internet. How many times the American song appeared in music charts compiled by Popnable? "Rapstar " is well-known music video that took placements in popular top charts, such as Top 100 USA Music Chart , Top 40 American Songs Chart, and more.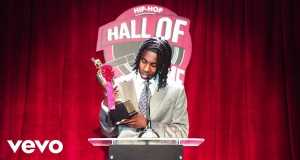 Country

USA
Added
Origin Name
Polo G - Rapstar (Official Video)
Report
[Not music related] [Add Artist Related] [Report Fake Views] [Remove Linked Artist] [Add Lyrics] [Add Lyrics Translation]
"Rapstar" Facts
"Rapstar" has reached 50.8M total views, 1.4M likes, and 22.2K dislikes on YouTube.

The song has been submitted on 09/04/2021 and spent 4 weeks on the charts.
The original name of the music video "Rapstar" is "POLO G - RAPSTAR (OFFICIAL VIDEO)".
"Rapstar" has been published on Youtube at 09/04/2021 07:00:15
"Rapstar" Lyrics, Composers, Record Label
Official video for "RAPSTAR" by Polo G

Listen + Download "RAPSTAR" out now:

Amazon Music -
Apple Music -
Audiomack -
Deezer -
iTunes -
Soundcloud -
Spotify -
YouTube Music -

Lyrics

Copped a BMW
New deposit I picked up another bag like fuck it imma count while I'm in it
I hear planes flying crowds screaming money counting chains clinging shit I guess that's how it sound when you winning
I ain't joking do it sound like I'm kidding
I been making like two thousand a minute
So high up through the clouds I was swimming
I'm probably gon' drown when I'm in it
I bet she gon' get loud when I'm in it
And we might have a child when I'm finished

I won't love a hoe after we fuck she can't get near me
Only bitch I give a conversation to is Siri
My pants Amiri
Yes I'm winning clearly
I'm the chosen one see my potential so they fear me
Lately I've been praying God I wonder can you hear me
Thinking about the old me I swear I miss you dearly
Stay down until you come up I've been sticking to that theory
Every day a battle I'm exhausted and I'm weary
Make sure I smile in public when alone my eyes teary
I fought through it all but that shit hurt me severely
I've been getting high to hide behind my insecurities
Taking different pills but I know it ain't no

Copped a BMW
New deposit I picked up another bag like fuck it imma count while I'm in it
I hear planes flying crowds screaming money counting chains clinging shit I guess that's how it sound when you winning
I ain't joking do it sound like I'm kidding
I been making like two thousand a minute
So high up through the clouds I was swimming
I'm probably gon' drown when I'm in it
I bet she gon' get loud when I'm in it
And we might have a child when I'm finished

They say I'm Pac rebirth
Never put out a weak verse
Homicides when we lurk
Imma step 'til my feet hurt
Been putting them streets first
White tee turned burgundy tee shirts
Looking for something real, he stuck in a deep search
Anxiety killing me I just wanna leave Earth
When they ask if I'm okay it just make everything seem worse
Trying to explain your feelings sound like something you rehearse
Stab me in my back with a clean smirk

Looking so deep into your eyes I can read your thoughts
Shut the fuck- I mean please don't talk
I've done been through too much and I don't need another loss
Put that on every war scar for every battle that I've fought

Copped a BMW
New deposit I picked up another bag like fuck it imma count while I'm in it
I hear planes flying crowds screaming money counting chains clinging shit I guess that's how it sound when you winning
I ain't joking do it sound like I'm kidding
I been making like two thousand a minute
So high up through the clouds I was swimming
I'm probably gon' drown when I'm in it
I bet she gon' get loud when I'm in it
And we might have a child when I'm finished
When I'm finished, when I'm finished

Directed by Arrad
Written & Co-directed by Polo G
Produced by Riveting Entertainment

Follow Polo G
Facebook -
Instagram -
Tiktok -
Twitter -

#PoloG #RAPSTAR
Weekly Chart Achieves (Top 40 Songs)
The highest charting position of the entry is #4 . The song appeared 7 total times in the Top 10 ; 2 total times in the Top 20 ; 1 total times in the Top 40 ; The worst ranking place of the video is #65. "Rapstar" has been charted in 3 trends (countries):
Monthly Chart Achieves (Top 40 Songs)
The best charting position of the entry is #4 . The song appeared 1 total times in the Top 10 ; 1 total times in the Top 20 ; The worst ranking place of the video is #69. "Rapstar" has been charted in 3 trends (countries):
Daily Chart Achieves (Top 100 Songs)
The highest ranking position of the entry is #4 . The song appeared 49 total times in the Top 10 ; 15 total times in the Top 20 ; 20 total times in the Top 100 ; The worst charting place of the entry is #86. Find all daily charts - Top 100 USA