Maroon 5 Decides To Call Their New Album 'jordi' For An Emotional Reason
The US group has released the date and cover of their seventh studio album
Related to: USA

Friday, 30/04/2021, 236 views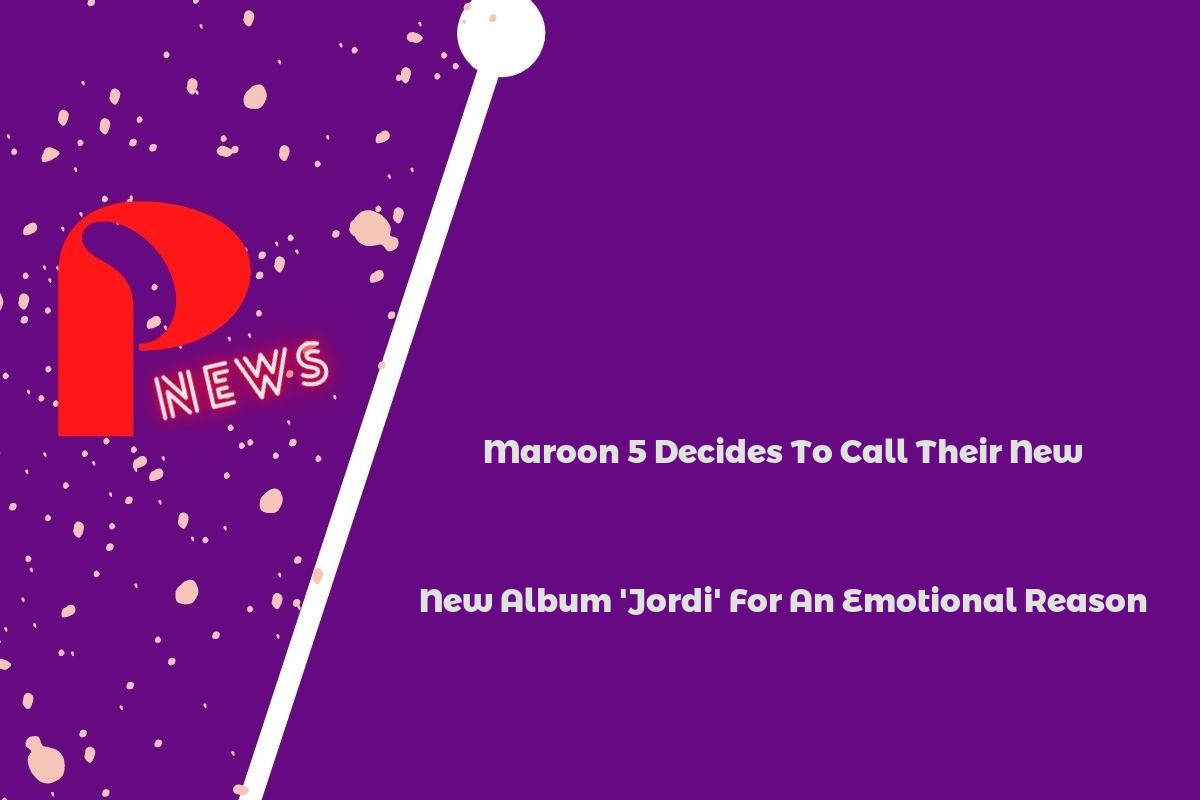 The US group has released the date and cover of their seventh studio album
Great news for Maroon 5 fans . The group is back with a new album, the seventh of their joint career! In this way, the band has revealed this week that it is called JORD I and that it will be released on June 11. Come on, it's just around the corner.
This new album will contain the album Beautiful Mistakes, his latest collaboration with artist Megan Thee Stallion, which has not stopped playing since it came out. In addition, the group has announced that they will be doing a virtual show on June 4 to perform their new songs live. They will do so under the name of UNSTAGED, an event prepared by American Express, and whose entry can be obtained through its official website.
Of course, on this album will also be available the songs of Memories , which fell in love with millions of people throughout 2020, and Nobody's Love . At the moment, the full tracklist has not been revealed. The collaborations that it will have or the themes that there will be are still a mystery.
What does seem to be clear to us is that the flowers are going to play an important role in the visual concept of the album. And the fact is that the cover of the album is full of flowers drawn with a leopard in the middle.
Why is his name Jordi?
Although at first the Spanish fans of the group have been crazy to see that the new Maroon 5 album has a very popular name in Catalonia, the reality is that the boys have decided to name the album Jordi in honor of their former manager: Jordan Feldstein.
The manager, brother of actor Jonah Hill, passed away at age 40 from a pulmonary thromboembolism in 2017. A blood clot blocked an artery in his lungs, killing him.
Jordan or Jordi, as the members of Maroon 5 affectionately called him, was one more and his death shocked the boys. In fact, the song Memories is dedicated to him and at the end of the video you can read "For Jordi".
Without a doubt, this album is a precious tribute to that person who was with the group for years.
| | |
| --- | --- |
| Don't Wanna Know | 13 October 2016 |
| Don't Wanna Know | 16 October 2016 |
| Don't Wanna Know | 02 November 2016 |
| Don't Wanna Know (Ryan Riback Remix) | 24 December 2016 |
| Don't Wanna Know (Jellyfysh Remix) | 29 December 2016 |
| Don't Wanna Know (Fareoh Remix) | 08 January 2017 |
| Don't Wanna Know (Fareoh Remix) | 02 February 2017 |
| Cold | 15 February 2017 |
| Cold | 16 February 2017 |
| Cold (Neptunica X Calmani & Grey Remix) | 24 February 2017 |
| Cold (Neptunica X Calmani & Grey Remix) | 27 February 2017 |
| Something Just Like This (Beau Collins Remix) | 27 February 2017 |
| Cold | 28 February 2017 |
| Cold (Hot Shade & Mike Perry Remix) | 24 March 2017 |
| Cold (Remix) | 06 May 2017 |
| Cold (Kaskade & Lipless Remix) | 09 May 2017 |
| Cold (R3Hab & Khrebto Remix) | 19 May 2017 |
| What Lovers Do | 31 August 2017 |
| What Lovers Do | 16 September 2017 |
| What Lovers Do (Slushii Remix) | 16 September 2017 |
| What Lovers Do | 29 September 2017 |
| What Lovers Do (Audiovista Remix) | 03 October 2017 |
| Help Me Out | 07 October 2017 |
| Whiskey | 21 October 2017 |
| Help Me Out | 24 October 2017 |
| Wait | 01 November 2017 |
| What Lovers Do (A-Trak Remix) | 02 November 2017 |
| What Lovers Do (A-Trak Remix) | 04 November 2017 |
| Wait | 18 January 2018 |
| Wait (Chromeo Remix) | 20 January 2018 |
| Wait | 27 January 2018 |
| Wait | 09 February 2018 |
| Girls Like You | 01 June 2018 |
| Three Little Birds | 10 June 2018 |
| Girls Like You (Remix) | 03 August 2018 |
| Girls Like You (Volume 2) | 17 October 2018 |
| Girls Like You | 15 February 2019 |
| Cold (Despotem & Tim Beeren Remix) | 26 August 2019 |
| Memories | 21 September 2019 |
| Memories | 22 September 2019 |
| Memories | 25 September 2019 |
| Memories | 26 September 2019 |
| Memories | 27 September 2019 |
| Memories | 08 October 2019 |
| Memories (Elijah Hill Remix) | 20 October 2019 |
| Memories | 29 November 2019 |
| Memories Dillon Francis Remix | 14 December 2019 |
| Memories Devault Remix | 16 December 2019 |
| Memories (Cut Copy Remix) | 18 December 2019 |
| Memories (Devault Remix) | 30 December 2019 |
| Moves Like Jagger | 09 August 2011 |
Popnable /Popnable Media
Related Stories
Thursday, 17/06/2021, 302 views
Thursday, 30/01/2020, 808 views
Tuesday, 03/11/2020, 869 views
Saturday, 17/04/2021, 233 views
Tuesday, 27/04/2021, 109 views
Tuesday, 30/03/2021, 136 views
Wednesday, 16/12/2020, 298 views
Monday, 12/04/2021, 110 views
Friday, 23/04/2021, 248 views
Monday, 07/06/2021, 182 views